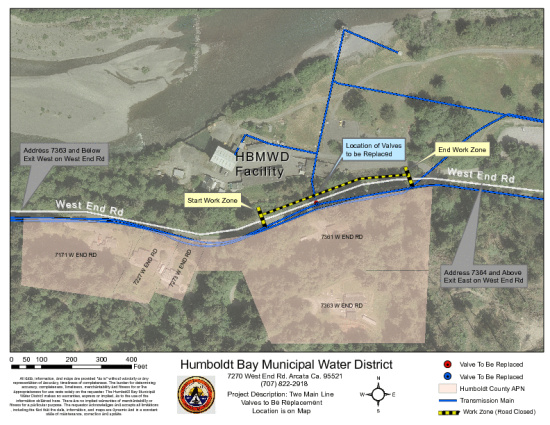 They need to shut the water off to install new valves. Your civic duty may involve showering with a friend or skipping it altogether. Surely you can come up with your own water-saving tricks (do share).
Luckily, this shutoff doesn't fall on World Toilet Day, also next week.
According to a press release from The Humboldt Bay Municipal Water District:
Important Public Notice:

Water Conservation Required

Due to a major valve replacement project, Humboldt Bay Municipal Water District (HBMWD) will be temporarily shutting off the water supply to their customers on Wednesday, November 20th, 2013.

HBMWD will coordinate with their seven Municipalities to have all water storage reservoirs completely full going into this event. With full reservoirs, water supply will be maintained to residents and businesses during the valve replacement project. However, given that HBMWD cannot supply additional water, all residents and businesses in the Humboldt Bay region are urged toconserve as much water as possible on November 20th. The valve replacement project is anticipated to take 14 to 16 hours to complete.

According to HBMWD General Manager, Carol Rische, "The two valves scheduled for replacement are now 50-plus years old." Rische added, "The valves are connected to a 30-inch transmission pipeline which supplies water for the entire regional water system. One valve has failed and the other is difficult to operate. While it is not an emergency situtation, it is a project that needs to be completed to ensure HBMWD can continue to provide reliable, high quality drinking water to the community."

HBMWD provides water to the following Municipalities:

· City of Arcata 822-5951

· City of Eureka 441-4267

· City of Blue Lake 668-5655

· Fieldbrook-Glendale Community Services District 443-5018

· Humboldt Community Services District 443-4559

· Manila Community Services District 444-3803

· McKinleyville Community Services District 839-3251

If you are served by any of the Municipalites above,HBMWD requests that you reduce water use as much as possible on November 20th.

The valves being replaced are located in West End Road. West End Road will be closed to through traffic between 8:00 a.m. and midnight between the 7200 and 7300 block. This is approximately 1.3 miles east of Guintolli Lane. Residents who live east of 7270 West End Road must exit and reenter using Hatchery Road to the east throughBlue Lake.

Call HBMWD at 443-5018 or your localwater district for more information. Their office is located at 828 Seventh Street in Eureka. More information is available on their web site,www.hbmwd.com.