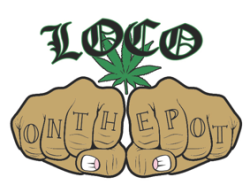 Must regulate medical marijuana. Must regulate. Must control the wild medicinal weed. Parameters weak.
Things are happening in Humboldt County. Humboldt is a happening place, 'specially for the weed. But we all know that, so on with the important matters here. Local marijuana law is changing, developing, regressing in these parts. There's been a fair amount of action in this respect lately, but little of the action seems remarkably progressive or legalization-oriented, perhaps because county residents who are more forward-thinking doth protest too little, some think.
Check Eureka: On Tuesday, Nov. 5, the City Council voted to let the moratorium on its medical cannabis ordinance expire. The ordinance allows for two permitted medical marijuana dispensaries and for personal grows on a land-use basis. I referenced Lorna Rodriguez's coverage here for a rundown of the latest City Council action.
To my knowledge there are zero functioning dispensaries within city limits. (The Humboldt County Collective in Myrtletown is outside city limits.) Can the capital city of Humboldt County get a freeking dispensary or five already? Plenty of room in Eureka for a thriving, legitimate, community-oriented medical marijuana dispensaries. Some jobs, some tax revenue, some local products. Fughettaboutit. (Yeah, I went there.)
Check the county: On Tuesday, Nov. 12, the Humboldt County Board of Supervisors voted to establish a ban on new marijuana dispensaries. The ban is to remain in place until clear regulations for dispensaries in unincorporated areas are developed. There's been a moratorium on new dispensaries for two years that's soon to expire, and then the ban. Existing dispensaries are cool.
Supervisor Rex Bohn wants to explore the idea of selling county law enforcement's cache of 8,000 pounds of weed that's seized annually to medical marijuana patients at a discount rate. Let's just potency test and pesticide/fungicide screen that marijuana before offering it to patients, yeah? I listened to Daniel Mintz's Nov. 12 KMUD News coverage of the Supes meeting for the deets.
Such fine reporting by Mintz, but gah! Bans, moratoriums, permits, land-use language, ordinances. It's confusing. Hard to keep up. Must process. Must understand the changing laws. But I'm running on Humboldt time (not sure about you) and LoCO-OTP is still processing the county's proposed standards for an outdoor marijuana cultivation ordinance on smaller parcels.
The Nov. 3 LoCO On the Pot — "At Last, Some County Regulation of Outdoor Marijuana Farming is Almost Here" features the full text of the standards and commentary from Supervisor Mark Lovelace.
Important points include the proposed banning of outdoor grows on parcels less than 1/2 acre in size (indoor cultivation is OK, however, so long as you keep it under 50 square feet) and a cap on outdoor medical marijuana grows on parcels less than 5 acres — the cap is no more than 50 square feet of canopy and no more than five cannabis plants.
Kevin Jodrey, the cultivation director at the Garberville Grass medical marijuana dispensary is concerned about the Board of Supervisors' ideas and he's issuing a call to action: If you don't think the proposed standards are reasonable, tell your Supe what's up in a direct, tangible way (emails, letters) sans emotional language.
Here is Jodrey:
"I don't think that people really understand that if you're on a half acre of land, you'll be allowed no outdoor cultivation and if you're on five acres or less, you're only allowed 50 square feet of cultivation with a five plant cap… Now that is not per person, that is per parcel."

"The standards that are in play, what we're going to work with, they're not set in stone. The individuals that live in the county still have an ability to affect a change on these standards. And you need to be aware of what the standards are."
Individuals who want grow more than five plants or 50 square feet of canopy on parcels between 1/2 and five acres might want to affect change on the proposed standards. Individuals on parcels less than 1/2 acre in size that want to grow a marijuana plant or three outdoors might want to affect change. Just sayin'.
Jodrey laments the proposed standards. "You can only have that 50 square foot component, which doesn't make any sense," he says. "It seems like it forces everything back inside." And for 1/2 acre or less, outdoor cultivation is to be banned, so that definitely either forces an indoor component or it forces patients to shop at the plentiful dispensaries we have in the county. (I'll claim that sarcasm.)
He questions whether patient cultivators on parcels smaller than five acres can cultivate the medicine they need for one year with the proposed standards. For simplicity, Jodrey likens 50 square feet to a 7'x7' square. He points out that LeBron James' wingspan is 7 feet. So that's a square of area LeBron James' wingspan by LeBron James' wingspan.
Cannabis plants grown outside can get large. Like L-A-R-G-E large. Like larger-than-a-LeBron-square large. Single outdoor cannabis plants sometimes exceed 50 square feet in canopy. And all that cannabis bush is not flowers, and Jodrey says (and he would know) "it's kind of difficult in a 7x7 square to attain all the cannabis you need for an entire year in one harvest."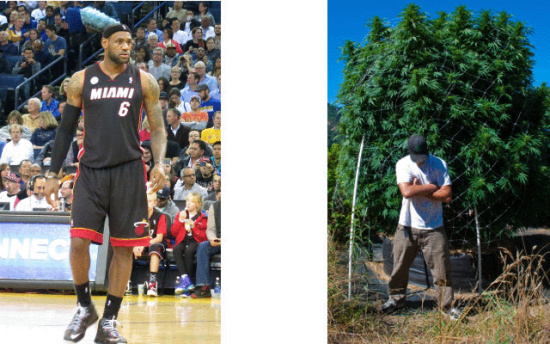 LeBron James' wingspan is just over 7'. Question: Does this plant fit in a square the size of LeBron James' wingspan by LeBron James' wingspan? Right photo by Kym Kemp.
Is this a realistic canopy limit? Is it reasonable to outlaw outdoor cultivation on parcels less than 1/2 acre in size? If you think the standards are unreasonable, then Jodrey urges you to say so, in writing, in a calm and direct way.
"If we don't do something… what we have is a standard that is crystal clear: 50 square feet on 5 acres," Jodrey says. "I challenge you to find a lot of people in compliance with that right now."
He is concerned about the apparent lack of response to what he calls a "punitive" set of proposed standards. He questions the standards given impending legalization and the need for people to participate in the organic cannabis market.
"This issue has been going on so long in Humboldt specifically, maybe the growers are just worn out," Jodrey says. But still, he's urging folks to muster the energy to email their Supe. He advises a simple, reasonable statement like, "I think that on a 5-acre parcel I should be able to grow more than 50 square feet of cannabis."
"It needs to be stated politely," he says. "The problem with letters that are filled with emotion is that [the Supes] can't use them in board meetings. Nobody really wants to sift through the rhetoric to get the fact. That's not what their job is."
Go to this page, look at the map to determine your district. Email your supe. Participate. Ask questions. This is Humboldt. You'll probably get a response.
District 1: Email Rex Bohn at rbohn@co.humboldt.ca.us.
District 2: Email Estelle Fennell at efennell@co.humboldt.ca.us.
District 3: Email Mark Lovelace at mlovelace@co.humboldt.ca.us.
District 4: Email Virginia Bass at vbass@co.humboldt.ca.us.
District 5: Email Ryan Sundberg at rsundberg@co.humboldt.ca.us.
###
LoCO-OTP wants to give a quick shout-out to Kerry Reynolds, KMUD's ultimate cannabis correspondent. For some reason, the "Legalization & The Future Of The Canna-Business Industry — What This Means For You" panel discussion at last week's Hempfest didn't get recorded. To fill the information void, Reynolds is conducting 4-5 minute interviews with all the panelists to air on KMUD News in the coming weeks.
The first interview is with Anna Owen, an industrial hemp advocate with Redwood Hemp. It aired last week. Reynolds expects subsequent interviews to run over the next two weeks, though she's not ready to provide specific dates quite yet. More info on the speakers at the Mateel's event page.
KMUD News airs at 6 p.m., Monday-Friday, and rebroadcasts at 8 a.m. the following mornings. Listen for Reynold's upcoming cannabis industry coverage (listen to KMUD News anyway), and listen for her regular Cannabis News Round-Up that airs every Friday. Reynolds also hosts Cannabis Consciousness, which airs the first Sunday of every month at 1:30 p.m.
Reynolds is up on the cannabis biz. Probably more of us should be.