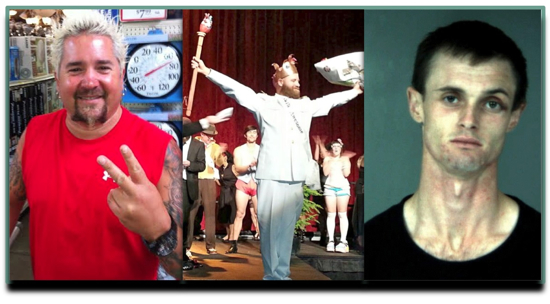 The Lost Coast Outpost's top read/clicked posts of the week Nov. 16-22 compiled with Google analytics:
CRIME/TRAGEDY:
1. Two Men Stabbed at Too Short Concert
2. Three Caught in Traffic Stop That Nets Heroin, Meth, and Needles
3. 19-Year-Old to Be Charged in Death of 13-Year-Old
4. Occupants of a White Truck Randomly Pepper Sprayed Three Different Groups of People
5. Accident in Eureka Yesterday Sent Two to Hospital
6. Injury Accident Reported in Miranda
7. CR Student Arrested For Hitting Roommate In the Head With Guitar
8. Mud and Rock Slides/Minor Accidents on Roadways
9. Missing Man Last Seen at St. Joseph's a Week Ago [FOUND]
10. Vegetation fire on Alderpoint Road
NON-CRIME:
1. LoCO's Big, Dumb Guy Fieri Watch
2. If Humboldt Can Kickstart $49,720 in the Next 22 Hours, All Our Weed Problems Will Be Fixed
3. Who Will Be the First Ever Mr. Humboldt?
4. And Your First Ever Mr. Humboldt Is … ?
5. LoCO on the Pot: A Smorgasbord of an Update on Humboldt Marijuana Regulation
6. Ray's Food Place in Eureka to Close/Company Tight-Lipped About Fate of Pharmacy in Garberville
7. Gallegos Will Not Seek Fourth Term
8. About That Water Shutoff Tomorrow
10. HUMBOLDT APPROVED: Who Serves Humboldt's Best Chicken Wings?
PREVIOUSLY: Last Week