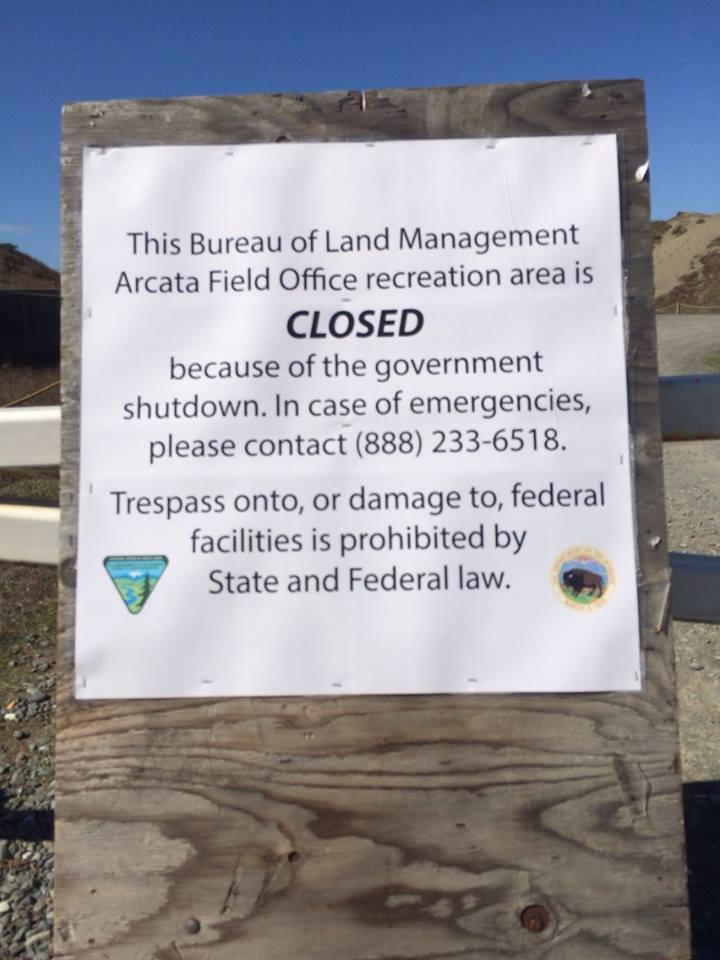 Today at the BLM-run Ma-le'l dunes. Photo by Lost Coast Outpost reader Brendan Killeen.
Part of the difficulty about reporting on the government shutdown is that no one is around to take your calls. Not only that, but the feds have taken the somewhat extraordinary measure of shutting off all non-essential website services. (See: The National Parks Service, the National Oceanic and Atmospheric Administration and the Bureau of Land Management, the latter of which redirects all interior traffic to the Department of Interior home page. This right here is supposed to be for the South Spit.)
Here's what we've been able to piece together. The National Weather Service is still providing basic weather forecasting, though our normally garrulous friends on Woodley Island were prohibited from fielding media calls. We did find a 92-page pre-shutdown PDF from the Department of Commerce that seems to suggest that most of the day-to-day functions of the NWS are deemed to be essential services.
The Bureau of Land Management, which oversees the bulk of the public lands in Humboldt County, is out of service. Witness the photo above, which was taken at Ma-le'l Dunes. We assume — but cannot confirm — that deer season, which just recently opened in much of Humboldt County, is now no longer a thing on BLM land. Can anyone confirm?
The entire National Park System is shut down, including Redwood National in the northern part of the county.
Don't fret, though, shopkeepers of Orick! The good folks at Fox News have published a how-to guide entitled "How to visit national parks during the partial government shutdown."
The answer: From space!
On the national stage, you might find Mother Jones' "48 Ways a Government Shutdown Will Screw You Over" helpful and/or mind-boggling.