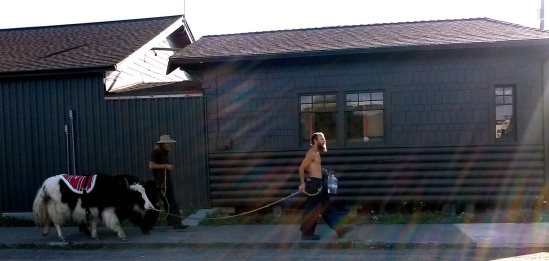 And so the sun begins its long dip below the horizon, sending one last blessing to man and beast alike with its life-giving rays. It seems to say: Let us not beat each other with sticks.
We gathered more material than we were able to write up, but now our time is up. Another day. We never did figure out exactly why the town smells like manure. "Parks division was getting calls too," says City Councilmember Alex Stillman via Facebook chat. "Nothing they did created the smell. It's gone today. Coffee roasting instead."
Perhaps it is but a cosmic or karmic reminder to this otherwise blessed town: Yes, you are bustling and hip. Yes, you have the most active, interesting business community of all the lands surrounding. Yes, you are a young people, and an accomplished people, and a diverse people. But hey hey: Dost thou think thine own excretion is not malodorous?
I dunno. Fare thee well, strange land of the north! Perhaps we shall find occasion to meet again someday. Like … uh, tomorrow, actually.