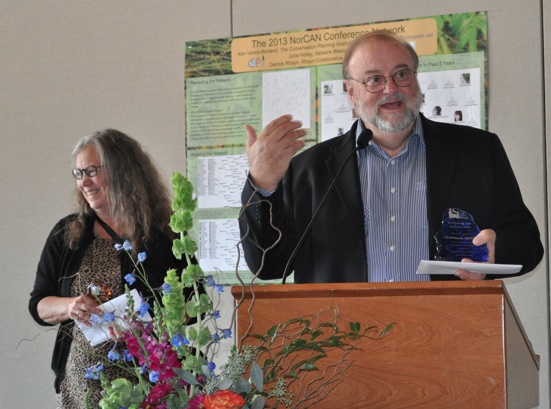 (Above: Herrmann and Cheyenne Spetzler are winners.)
Northern California Association of Nonprofits press release:
The Northern California Association of Nonprofits has selected Herrmann and Cheyenne Spetzler to receive the prestigious 2013 Nonprofit Leader Achievement Awards.

Each year, the Northern California Association of Nonprofits (NorCAN) calls for nominations to recognize an outstanding leader from the regional nonprofit sector to acknowledge their contributions. Nominees are considered based on a number of factors, including their demonstrated ability to be strategic, motivating and collaborative; ability to work through obstacles with confidence, creativity, and the support of their staff, volunteer and board teams as well as their community partners; and their ability to demonstrate innovative approaches to providing their services.

On Thursday, October 10, Cheyenne Spetzler, COO of Open Door Community Health Centers and Herrmann Spetzler, husband of Cheyenne and CEO of Open Door Community Health Centers, were presented with the 2013 Nonprofit Leader Achievement Awards. "Congratulations to Herrmann and Cheyenne on this award. It is well deserved," commented Steve Engle of Mad River Community Hospital. He continued, "I have never known anyone who is so passionate and determined to bring healthcare to a rural environment. What they have built is a valuable asset to our communities and patients."

The award presentation included comments by Anne Holcomb, Executive Director of Food for People and recipient of the 2012 Award, as well as resolutions by Senator Noreen Evans and Assemblyman Wesley Chesbro, a certificate of achievement from Congressman Jared Huffman, and a proclamation from the Del Norte County Board of Supervisors.

"…Herrmann and Cheyenne…have worked tirelessly to improve access to quality health care on the north coast. They are visionaries, whose energy and passion for their work has made this community a better place to live," acknowledged Congressman Jared Huffman.

Del Norte County Second District Supervisor Martha McClure shared, "Hermann and Cheyenne have made a difference is so many peoples' lives. Del Norte County is forever thankful for the outstanding medical services they have brought to our community."

In 1977, Herrmann became the CEO of Humboldt Open Door Clinic. What began as one store-front clinic now includes ten locations through Humboldt and Del Norte counties serving more than 44,000 patients a year. Cheyenne originally began with Open Door as a volunteer but today is the Chief Operating Officer. Herrmann and Cheyenne were a driving force behind the new state of the art Eureka Community Health and Wellness Center that opened earlier this year. Under the Spetzlers' leadership, Open Door has become a nationally recognized model for rural health care.

Open Door Site Administrator Sarah Kerr commented on working with the Spetzlers, "Herrmann and Cheyenne both believe in their staff. They support internal growth and nurture an environment where all employees can see their potential and feel important in their daily work. I am inspired by their intelligence, their compassion, and their dedication."

NorCAN is a professional membership association that has served the North Coast since 1999 and provides networking opportunities, trainings and resources to nonprofits in the region. For more information about NorCAN visit northerncalifornianonprofits.org.