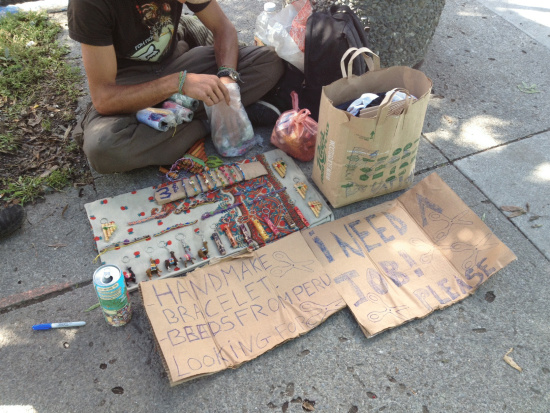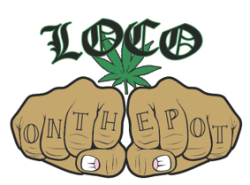 Last Monday I found myself on the KHUM airwaves with Mike Dronkers. He put me on the spot, like he do, when he asked me what the most popular trimming scissors are these days. He pressed me for information — scissors with a spring or no spring?
I didn't know. I didn't have a nicely trimmed nugget of an answer to deliver on the airwaves. Mike D. exposed me as the ignorant outsider that I am — he exposed my fraudulent association with the marihuana world.
After that radio appearance I felt compelled to right my ignorance, so I sought information about popular trim scene gadgetry from the pros at the most easy-to-find and accessible trim scene in Humboldt County — Trim Scene Solutions in Redway.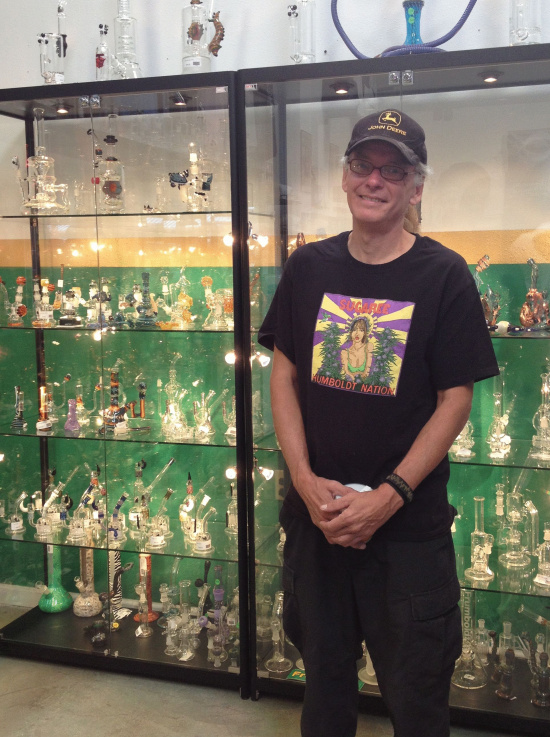 Remember Mykol Blackwell from last week's LoCO - OTP? (He manned the Mean Green Trimming Machine on behalf of Trim Scene Solutions at the Garberville Grass Vendor Fair.) This guy sports his very own weed-oriented art on his T-shirts and he knows what's up — he can talk trim scissors all day long. Luckily, Blackwell was there to help me when I stopped in the store for my research session.
Trim Scene Solutions has an interesting array of trim scene equipment, plus marijuana swag and marijuana ingestion devices (is there a word for that?). It's a one-stop-shop for the marijuana enthusiast.
For those who are so inclined, Trim Scene Solutions has a wide selection of trimming machines to choose from. Trimming machines can get the bulk of the trimming done on a crop, but humans are needed to fine trim the marijuana flowers before they go to market. (As mentioned in LoCO - OTP last week, the Mean Green Trimming Machine does about an 80-85 percent trim on the marijuana flowers.)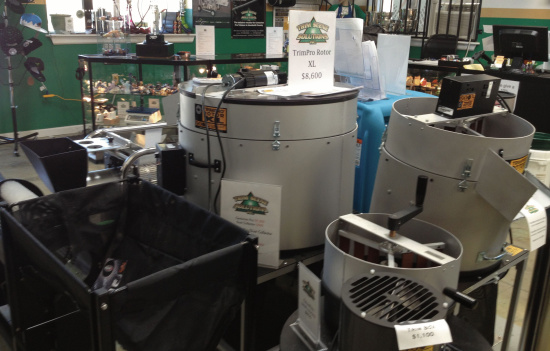 "Trim machine, and then the humans." Blackwell says.
Right, humans. Human trimmers need scissors, and boy, did Blackwell show me scissors, from his own old school, spring-loaded favorites (less effort for the hands) to the popular, spring-free Chikamasas: "They're actually a bonsai tool," he tells me.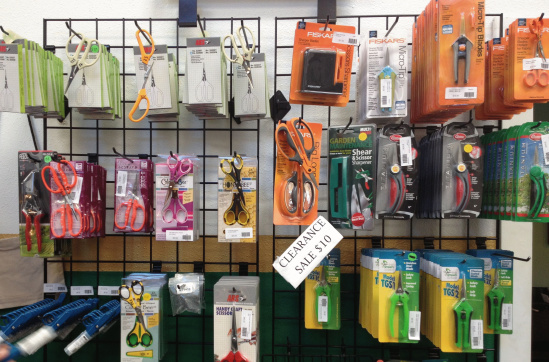 Trimmers need sharp and comfortable scissors because they work long hours — "you're at it like 8-10-12 hours a day, depending on how much money you want to make," Blackwell says.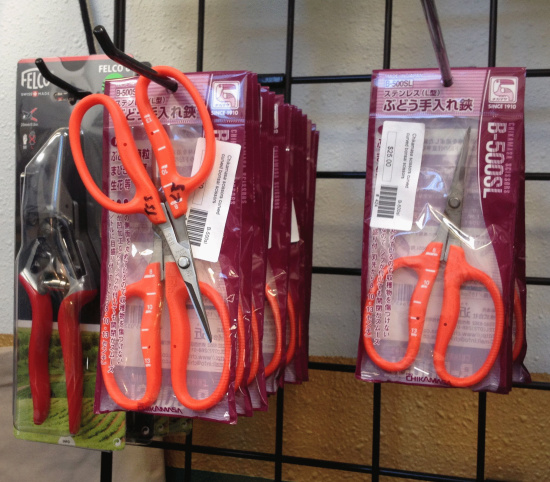 In spite of the rise of the Chikamasas, Blackwell says the spring-loaded Fiskars scissors remain popular. "They're tried and true." (And in Humboldt County, you can find them at the grocery store.) There's even nifty Fiskars flair — little ergonomic grippy palm cushions.
Scissors can get gummed up pretty quickly when being used to process sticky marijuana. When a pair of scissors gets gunky, the trimmer soaks the scissors in a cup filled with a blend of olive or other vegetable oils and/or alcohol. The trimmer may opt to rotate through multiple pairs of scissors that rest in the solvent-filled cup; just wipe the solvent and marijuana goo off of any given pair of scissors before putting them to use. Blackwell says a trimmer uses "several to half a dozen scissors."
But Trim Scene Solutions keeps it nifty. Blackwell showed me the Scissor BUD-e product, a little tub with a slotted, solvent-soaked sponge that allows you to clean your scissors one-handed. That sponge is some NASA-level shit. No joke.
Human trimmers use trays to catch the clippings from the flowers. There are ergonomic versions available.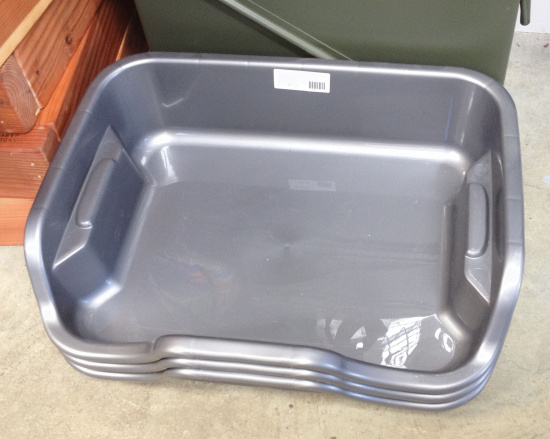 Like with scissors, a trimmer's hands will get gummed up. Some trimers wear gloves. But for those who raw-dawgg it (no gloves), there are specially-formulated hand cleaners for the human marijuana processor. Blackwell showed me some locally-made options.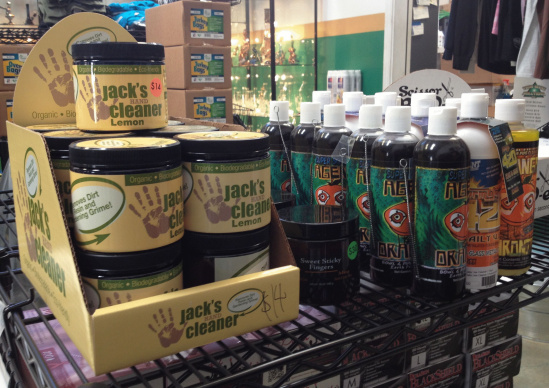 So trimmers need lots of scissors, they need scissors-cleaner, they need hand cleaner or gloves and they need trays to trim over.
As for popular accessories, some trimmers like aprons made of non-stick material. Blackwell showed me a locally-made apron complete with an iPod pocket. That marijuana can be some sticky stuff… Ever find yourself plucking a rogue bud stuck from your sweater while you were shopping at Wildberries? Trust me, it happens.
The Mean Green Trimming Machine may be doing 80-85 percent of the trimming work these days, but human trimmers are still at it. Blackwell says he knows someone that's been trimming "non-stop for like year and a half."
Blackwell: "You got your light dep, your indoor and then this time of year you add the outdoor harvest — it's pretty constant. You can make a living year-round."
For an academic, not so gadget-oriented perspective on trimmer trends, I reached out to Karen August. She got her MA in Sociology at Humboldt State. Her master's thesis title: "Playing The Game: Marijuana Growing in a Rural Community." (The abundance weed research out of HSU is discussed on LoCO here.)
Check out "The Gender Dimensions of Growing" section of August's thesis (it starts on page 70). Her research on trimmers is contained therein, research that indicates gender disparity in the trimming sector. This is fascinating. From 2010 to 2012, August scoured the Craiglists of the Emerald Triangle for weed-oriented posts. She collected posts about trim work in particular.
She analyzed Craigslist posts by growers seeking to hire trimmers, and she found that women trimmers were preferred. She also found that women were objectified in the Craigslist posts to no small degree. She highlights a post by a grower offering extra pay for women that trim topless.
In her thesis, she doesn't go so far as to make generalizations about the clear pattern of male dominance in the Craigslist trimmer posts – her sample size is too small for decisive conclusions — but in light of her research, it is clear that gender plays a role in the trimming sector.
(Side note: August told me that when she conducted her research, Humboldt had the most active Craiglist weed scene in the Em Triangle.)
August recently browsed Humboldt Craigslist for weed-oriented posts from this season and she saw "multiple posts from people who stated very clearly that they had come from out of the area for trim work — to work for the season." This is interesting because when August scoured Craigslist from 2010-2012, she did not see a single ad from trim tourists.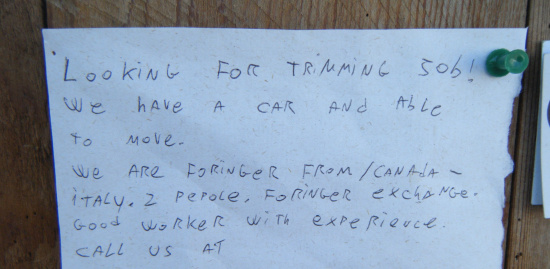 My quick search of the Community section of Craigslist yields five posts by trim tourists. What changed in the last year? August speculates, but she offers no sure answer.
Here is an excerpt from an Oct. 4th Craigslist post by a trim tourist (who wants to be a resident) seeking work — "Will Trim 10 HRs per day, $25 per HR." (Post here, if it still exists):
"If you've got the gloves and scissors, I'm your guy. Just got down here from Eugene (OR) at the behest of friends who promised the world, but failed to do anything for me. Now I'm stuck here with money dwindling quickly. I'm not a beggar/spanger, junkie, gutter-punk, or lazy-ass, I just need some honest work. I am willing to work well below the industry norm for up to 10 hours per day in order to get the money I need together for a more permanent living situation in the area…"
Wait a second: "If you've got the gloves and scissors…" Real pros bring their own scissors to the trim scene, right? And isn't the standard $200 per pound trimmed, not $25 per hour? You tell me. Perhaps it's time for a Humboldt trimmer tourism bureau.