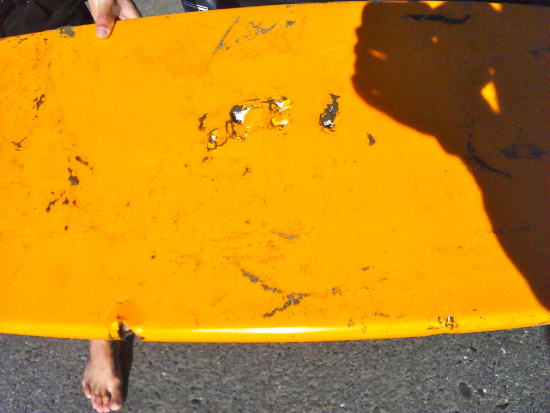 UPDATE 9:21 p.m. And the Associated Press version, nicely done.
UPDATE 7:24 p.m. News Channel 3 covers the story.
UPDATE 9:59 a.m. According to comments below, the BLM gate next to the Coast Guard Station (closed/locked due to government shut down) was not in fact open and did delay Samoa Fire.
Also, the T-S has a story.
UPDATES (and minor correction) 1:11 p.m. According to a friend of a friend, things went down at Bunkers, which is slightly up the beach from the North Jetty and the site of previous shark encounters, including Scott Stephens' 2012 tangle with a great white and Brian Kang's 2004 experience.
From Humboldt Surfrider: "Proceeds from this month's Ocean Night at Arcata Theater Lounge will go to benefit of this year's Payer Of The Rent Jay Scrivner. Donations to Jay and his family can also be made via the Humboldt Surfrider PayPal account at humboldtsurfrider@reninet.com." (Disclaimer: Your LoCO correspondent is chairperson of the Humboldt Surfrider chapter.)
Ocean Night takes place Friday, Oct. 11. Doors at 6:30 p.m., movies at 7 p.m. This month's film is, coincidentally, the award-winning documentary Surfing & Sharks. (Gulp.)
UPDATE 10:52 a.m. The surfer in question is Jay Scrivner, College of the Redwoods English prof and all-round supercool guy. Folks on the beach stopped the bleeding with towels, etc., and while stitches were needed, again, he's expected to be okay according to the people who were there.
UPDATE 10:12 a.m: From second-hand reports: The man who was hit is in the hospital with injuries to his thigh and general consensus is "will be okay." Other surfers onshore called 911, emergency vehicles responded, there was apparently no delay at the gate (currently closed due to gov't shutdown) as the BLM caretaker had opened it in preparation for the ambulance. Waiting on more.
ORIGINAL POST: No details yet, but word from the beach is "Shark @ Jetty. Surfer injured." More info as we get it.