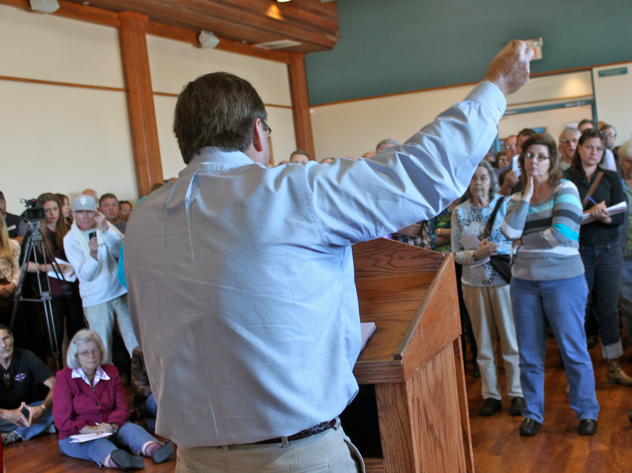 (Click photo to enlarge.)
"This is a case where our desire to do right has become wrong. We've become an absolute magnet for the homeless unlike other communities." -Rob Arkley, Eureka Wharfinger Building, Sept. 18, 2013
The Fire Marshal had to turn people away from Wednesday night's standing room only meeting called by Rob Arkley to address homelessness in Humboldt. While the intent of the gathering was essentially to collect contact information for those who favor Arkley's views on how to reassess local assistance programs, the draw of an open mic led to a confrontational evening.
Arkley kicked off the evening by laying out how he thinks Eureka arrived at the place it is and asked people to join together to attempt to solve the problem.
"Our goal tonight is to create a process, to get a list of people who'd like to participate in the solution," he told the standing room only crowd — the full 10 minutes of audio is included below.
(AUDIO) Rob Arkley's Opening Remarks
After Arkley left the podium and disappeared from sight, his secretary Shirley Fuller was left to try and corral the deeply divided crowd and those with the urge to approach the mic. Some were booed, some cheered, a few were interrupted. A majority of those who spoke did so in opposition to the spirit of the meeting.
Your Lost Coast Outpost, for better or worse, has included the full roughly hour-long audio of what was said below. If you want to hunt around for the highlights, here's a quick reference guide to the giant audio file:
(AUDIO) Speakers Humboldt Homelessness Meeting
Photo roll call! (speakers in the order they spoke, click to enlarge):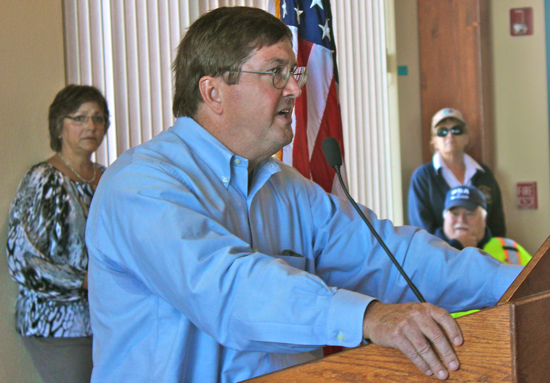 And then there was the circus outside. Your Lost Coast Outpost was recording speakers for the duration of the meeting but the protesters and their party horns were audible through sections of it. After the meeting Eureka occupier James Decker, who held court outside to serve food to anyone who wanted it, told LoCO that four of his associates, including Kim "Verbena" Starr, had been arrested due to the ruckus.
PREVIOUSLY: Arkley's Email