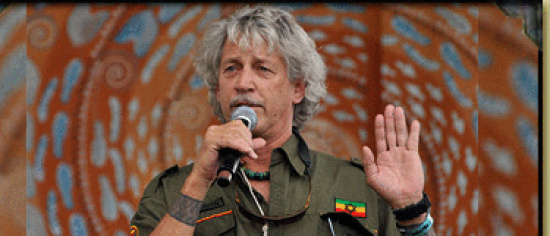 Photo from Doug Green's Website.
According to Darryl Cherney, "Doug Green passed away on Sunday night, September 22, at 10:45 pm. Peace and blessings to all who loved him. "
Green was apart of the back-to-the-land movement on the North Coast and a major force in the southern Humboldt community. He wrote in his online biography,
I joined the "back to the woods" movement and purchased 50 acres ($200 down) in what [is] now known as the Lost Coast in Northern Mendocino/Southern Humboldt's (NoMenSoHum) remote coastal region where I still reside. I took up digital therapy in the form of hippie house construction. My house and several I worked on were part of the coffee table book "Handmade Houses, A Guide to the Woodbutcher's Art." Then I put some pot seeds in the ground by a stream in '69 and well……. the rest is history as they say.

…I returned to Humboldt to build French's Camp into a concert venue where I produced the "Garberville Music Festivals" in '80 & '82. As a founding board member of the Mateel Community Center, I was approached by one of it's members to produce a benefit festival on my site when our community center was burnt down by… arson. We started "Reggae on the River" in '84. I remained co-producer and MC of "Reggae on the River" for 12 years.
On Saturday, September 14th, a "Lovefest" was held to raise funds to pay for Green's battle with cancer. Cherney, who helped organize the event, wrote, "Over 400 people attended the Lovefest for Doug. That alone should tell us something about the man's legacy, which is far deeper than most know… ."