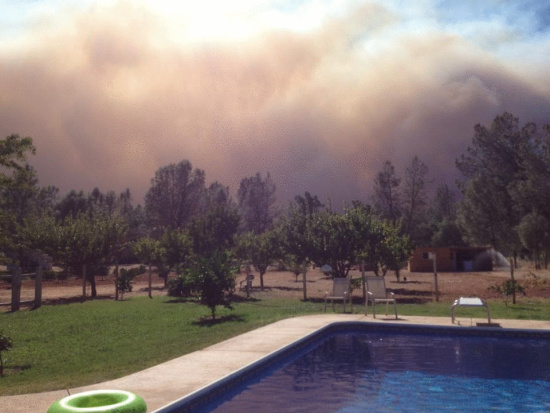 Photo taken in Happy Valley as the Clover Fire burned in a rural neighborhood this afternoon. (Photo provided by Summer Odell.)
Smoke pouring into Humboldt from the east comes from a huge fire that is devouring structures in Happy Valley to the southeast of Redding. The fire has burnt multiple homes. The above photo was taken by Summer Odell from the home of former Southern Humboldt residents Larry and Debbie Totten Odell. Their home was spared when winds changed at the last moment.
The fire which started at 12:32 P.M. has "damaged or destroyed" 20 structures, explained Mike Witesman, a retired Cal Fire Information Officer who was brought on to help with the fire. According to Witesman, "the fire started very rapidly and almost immediately got involved at structures." The properties there, he says, are 5 to 50 acre plots. "We know that when the fire started there were two separate fires and I think now they've burned together."
The fire is currently at 5% containment but Witesman explained, "We're hoping it will be substantially improved by tomorrow because it won't be 100 degrees tonight and the winds are subsiding."
Many residents have been evacuated.
In a story about the fire published earlier today on LoCO's Southern Humboldt sister blog, Redheaded Blackbelt, the below photo was posted which was taken by Peggy Phillips from Humboldt's Brush Mountain looking towards the east.