UPDATE, FRIDAY 4 p.m.: The Los Angeles Times has posted the following video, which addresses the reactions of LA families and students, along with a list of some of the victims identified so far.
—Ryan Burns
UPDATE, FRIDAY 2:30 p.m.: At a small afternoon press conference, enrollment management and student affairs VP Peg Blake and HSU police sergeant John Packer spoke with media about how the university has dealt with the recent tragic events. One of the more emotional topics covered by Blake was the loss of her colleague, admissions counselor Arthur Arzola.
"Art's life's passion was finding ways for low income and first generation students to be successful in college," Blake said, choking up as she spoke. "We are dedicating this day to Art."
She continued: "Art had a magical personality. He was bright, talented, articulate with a heart as big as the world."
The full audio of Blake and Packer's comments have been uploaded to Soundcloud thanks to reporters with HSU's student newspaper The Lumberjack and is included below. (It should be noted that The 'Jack has been providing numerous timely updates on this story on their Facebook page that are worth checking out.)
— Andrew Goff
# # #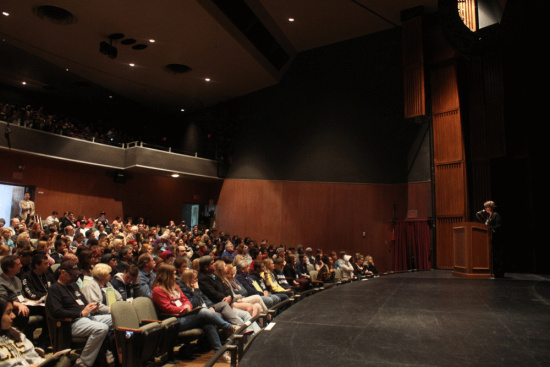 UPDATE, FRIDAY, 9:54 a.m.: The John Van Duzer Theatre was full to capacity with future HSU students for the university's Spring Preview this morning. Peg Blake, vice president for enrollment management and student affairs to welcome the incoming crop, but also briefly addressed the accident (audio farther down).
"We are heartbroken for everyone involved and all of their family friends and loved ones," Blake said. "Some of us got little or no sleep last night so we probably don't have as much energy as we hoped we would have."
She then asked the students to join her in a moment of silence. Audio of Blake's opening statements pertaining to the accident has been included below.
— Andrew Goff
# # #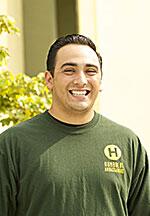 UPDATE, FRIDAY, 9:10 a.m.: The Sacramento Bee reports that HSU Admissions Counselor Arthur Arzola is among the deceased. Arzola was 26 years old and based out of the Los Angeles area.
###
UPDATE, FRIDAY, 8:30 a.m.: Ten people have now died from injuries sustained in the crash, according to this morning's news — five adults and five children. (L.A. Times). Many first responders at the scene expressed surprise that anyone at all walked away from the crash, but most of the nearly 50 people on the bus escaped through windows or an emergency exit.
The crash seems to have been caused by the big rig involved — a FedEx truck — swerving to avoid a car, then crossing over the median, colliding with the bus. The National Transportation Safety Board is sending a team to investigate, and the California Highway Patrol is scheduled to hold a press conference at 10 a.m.
The Outpost's Andrew Goff is at HSU for Spring Preview, where the students from Los Angeles on the bus were heading. "Everything is proceeding as scheduled," Goff writes. "Hundreds of prospective students on the quad meeting with tour guides and standing in a very long bagel line."
###
UPDATE: Video of the site from KCRA via CNN:
# # #
UPDATE: Twitter user @jonathanngee claims to have been on the bus and is tweeting about the experience. For example:
cant believe this just happened.. i was asleep and next thing you know i was jumping out for my life pic.twitter.com/rYIuoyibG3

— (@jonathanngee) April 11, 2014
# # #
UPDATE: KFI News is reporting that the drivers of both the FedEx truck and the tour bus are among the nine killed, and the other seven are believed to have been passengers on the bus. Meanwhile, survivors are arriving at a nearby hospital.
Four patients from Orland collision arrive at Enloe Medical Center. Nine patients are currently here. @sacbee_news pic.twitter.com/rDza2e0g1e

— Tercius Bufete (@TerciusBufete) April 11, 2014
# # #
Original post:
#BREAKING:Tour bus crashes in Orland, Calif. #11Alivepic.twitter.com/46hmEFnniJ

— 11Alive News (@11AliveNews) April 11, 2014
A horrific accident involving a tour bus bringing students to Humboldt State Spring Preview event tomorrow has killed nine people on I-5 near the town of Orland in Glenn County. A FedEx truck collided with the tour bus, which was driving up from Southern California, this afternoon.
Coverage around the Web: CNN, KRCR-TV, New York Daily News.
Humboldt State is in mourning. According to messages from the university (see below), friends and families of bus passengers may call the University Police office for whatever information the university has at this time.
From Humboldt State:
Humboldt State University is getting word of an accident involving a charter bus that was bringing a group of prospective students to the university's April 11 Spring Preview Day. The bus collided with a FedEx truck.

The accident occurred on Interstate-5 near Orland. According to law enforcement in the area, there are numerous confirmed injuries.

HSU is working to find out more information, which will be posted here when available.

Parents and family members of students who were on the bus may contact University Police for more information or guidance at (707) 826-5555.

Message from HSU President Rollin Richmond:

Dear Friends,

Humboldt State University is deeply saddened by a tragic accident that occurred earlier this evening involving a charter bus filled with prospective students. They were on their way to visit campus for the April 11 Spring Preview event.

Our hearts go out to those who have been affected, and we are here to support them, and their families, in any way possible.

The bus was travelling on Interstate 5 near Orland when it collided with a FedEx truck. We are in contact with law enforcement in the area, and are being told of multiple injuries.

Families of students who may have been affected may contact University Police for more information or guidance at (707) 826-5555.

Sincerely,

Rollin C. Richmond