Submitted obituary.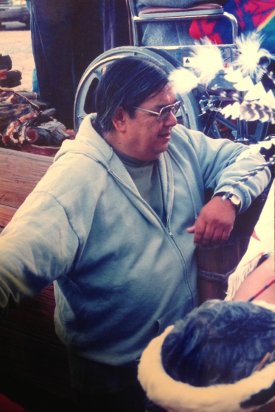 Amos Merrill Tripp was born July 5, 1943 in Eureka, Ca to Amos and Violet Tripp, the second oldest of five boys. He grew up in Klamath and attended Klamath Union Elementary School and graduated from Del Norte High School in 1960 at the age of 16, a year early. While at Del Norte High he was the ASB Student Body President and also attended Boys State. After high school he worked in the local mill while also attending Humboldt State University.
At HSU he waited for, met and then married the love of his life in the fall of 1971. He graduated from HSU in 1972 and then attended UC Davis Law School and received his Juris Doctorate Degree in 1975. He was a partner in the first Indian Law Firm in California from 1976-1979 and then went into private practice for many years.
During his legal career he was very proud of all the work he did on behalf of Indian People, especially on cases where he defend Indian rights. He worked with the Pitt River People to fight against the California Indian Lands Settlement Claim, and he and his wife never did take the California Indian Money refusing to sell their land to the State of California. He worked on fishing rights cases with the California Indian Legal Services and with Eagle Child defending and protecting Indian families through the Indian Child Welfare Act. He also did work to help challenge the GO-Road. He taught Federal Indian Law and Water Law classes for many years at Humboldt State University and College of the Redwoods.
One thing that made him a true Indian attorney is that he was well known for accepting all kinds of payments and his family remembers receiving deer meat and fish, deer hides, crocheted hats and other forms of traditional payment. Although in the early days he would sometimes wear a suit and tie when he had to go to court, his favorite work and meeting look was his short-sleeved plaid shirts which we all know well.
He was the first director of UIHS and later worked for over twenty-five years as their Program Attorney. He was instrumental in shaping the vision that lead to the building of the Potawot Health Village and in the development of programs that honored and included culture and traditional values. During his time there he always provided guidance that honored both traditional and legal values. He was proud of the work during his tenure at UIHS and had a special place in his heart for the elder board members who started the clinic. In fact, his early college years were spent with many of these same elders.
He traveled around the state with his mom Violet and her friend Lena Nicolson, and others, attending Inter-Tribal Council Meetings and participating in the development of many of the foundational Indian Programs that still exist today to serve our Indian People. He later served for ten years on the Humboldt Area Foundation Board of Directors and helped to create the Native Cultures Fund.
In the early 1970's he and his family worked closely with Karuk Elders Charlie Thom, Shan Davis, Frances Davis, and Fred and Elizabeth Case to restore the brushdance at Katamiin. This was a time when other ceremonies were also getting stronger and Amos was involved in many parts of the cultural revitalization efforts. He was a well-respected maker and caretaker of regalia. He later became the dance leader for the Karuk Brushdance Camp and this is the role that became his life's work. The values that he believed in and practiced at ceremony were the same values he lived in all parts of his life and he shared this with his family and many, many others. He was especially proud of all the young people who have chosen to carry on these traditions and he was never happier then he was last year when all four of his granddaughters danced together at Katamiin.
These last few years were spent keeping busy as a member of the Karuk Tribal Council, which is something he was very proud of, and spending lots of time with his family. Whether having all the girls over for Sunday Dinners or attending sporting events to cheer on his granddaughters and great-nephews, he never missed the chance to support those he loved. He was known to spend 4-5 nights out of the week at the gymnasium cheering on the kids during basketball season and his presence will be greatly missed.
He is survived by his loving wife of 42 years, Maria "Perky" Tripp and his daughter Pimm and her husband Alme Allen and their daughters Ty'ithreeha and Ahtyirahm, and his daughter Kapoon Tripp and Willy Lamebear and their daughters Wateekwashaun and Karamachay.
He is also survived by his older brother Leroy Tripp and Sue, his younger brothers Brian "BDT" Tripp, David Tripp and Jan, and Phillip Tripp and Rose; his sister Helen and Pat Suri and his cousin Mike McGarity; his sisters-in-law Linda "Chub" Hoffman, Sandry Lowry and Candy Gibson. He is also survived by many nieces, nephews, great-nieces, great-nephews who loved spending time with him and were very close to their Uncle Amos. He also is survived by everyone in his spiritual family and the entire dance community, whom he considered family.
He was proceeded in death by his parents Amos and Violet Tripp, his father-in-law and mother-in-law Walt and Evelina Hoffman, his brother-in-law Walter "Skippy" Hoffman, his nephew Scott Gibson, his close uncle Leland "Junie" Donahue and his close cousin Wilma "Bucky" Mata.
The pallbearers will be his nephews Sonny Tripp, Hector Tripp, Levi Tripp, Justin Tripp, Jasper Tripp, Emilio Tripp, Phillip Tripp, Jr., Walter Hoffman, Robert Hoffman, Micah Gibson, Chag Lowry and Skip Lowry and his great-nephews Mateek Tripp, Imya Tripp and Tyler Gibson.
The honorary pallbearers are Loren, Pyuwa and Guylish Bommelyn; Frank and Koiya Tuttle; Julian Lang; Hot Rod Donahue; Owee Colegrove, Eli Hensher-Aubrey, Joe and Jude Marshall; Joe James; Javier Kinney; Jesse James; Alphonso Colegrove; Gary Juan, Jr.; Thomas "Kahno" Gordan; Boyd Ferris; Glenn Moore; Jai Kibby; Terry and Zac Brown; Andre Cramblit; Terry Supahan; Raymond McQuillen; Reno Franklin; the Quartz Valley Crew; Willard Carlson and the Carlson Boys; Two Feathers Offield; Tim Nicely and Peter Pennekamp.
Visitation will be held Sunday, April 13th from 11am – 3pm at Paul's Chapel in Arcata and the Memorial Services will be held the following day on Monday, April 14th at 11am at Redwood Acres in Eureka, with internment to immediately follow at Oceanview Cemetery. The family invites everyone to a reception at Redwood Acres following the services.