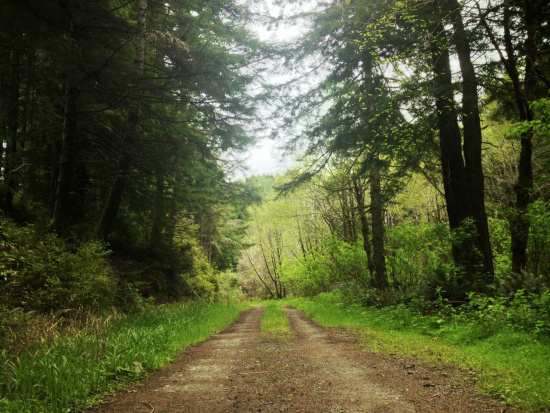 Attention lovers of public forests, trails, conservation and that type of stuff.
Check this press release from the county:
On April 15, 2014, the Humboldt County Board of Supervisors voted unanimously to accept funds that will allow the County to purchase 1,000 acres of forestland southeast of Eureka to establish a community forest. The community forest will be managed in collaboration with the City of Eureka for multiple purposes including public access and recreation, sustainable timber harvest, and watershed and resource conservation.

The County will receive nearly $6.8 million from the California Natural Resources Agency, State Coastal Conservancy, and California Wildlife Conservation Board to acquire the 1,000-acre property, which is a portion of the McKay Tract owned by Green Diamond Resource Company. The property is situated adjacent to salmon-bearing Ryan Creek, a tributary to Humboldt Bay. Until a permanent name is established, the property will be called the McKay Community Forest.

Continuation of a working forest is essential to financial viability, with revenue generated through timber harvest used to offset management costs. Grants and donations will provide additional financial assistance. The financial plan has been developed based on no new encumbrance to the County's General Fund.

"This project represents a strategic opportunity for a long-term investment in our community," said Rex Bohn, Chair of the Humboldt County Board of Supervisors. "Redwoods are part of our heritage, and this property is a treasure in Eureka's backyard. It will be wonderful to make it accessible to the public in the near future, while maintaining productive timberland and contributing to economic productivity and local jobs. We're going to use this forest for work and play, and we're going to do it the right way."

The project has been facilitated by The Trust for Public Land, a national conservation organization, which has pledged to provide $125,000 to the County to assist in start-up costs. According to David Sutton, Director of California Land Conservation, "This is an unusual grant for The Trust for Public Land, but we feel it speaks to the importance of this conservation project and the significance of the growing community forest movement in the West, a movement that we have supported since its inception."

The City of Arcata's longstanding community forest has demonstrated how forestland near the edge of town can be managed in a manner that balances public use, wood production, and forest conservation. After purchase is complete, the McKay Community Forest will become the first community forest owned and managed by a county government in California.

The new community forest will depend on active public involvement including trail building and maintenance, donations, volunteer patrols, and other activities. "The public is going to make the McKay Community Forest special," said Supervisor Mark Lovelace. "I'm looking forward to their involvement because that will ensure this project is a reflection of our community."

The property will be transferred from Green Diamond to the County within the next two to three months, however the property will not be open to the public until appropriate access points and trail segments are developed. The timeframe for making the property accessible will depend on fundraising and grant opportunities, volunteer interest, and coordination with neighboring landowners.