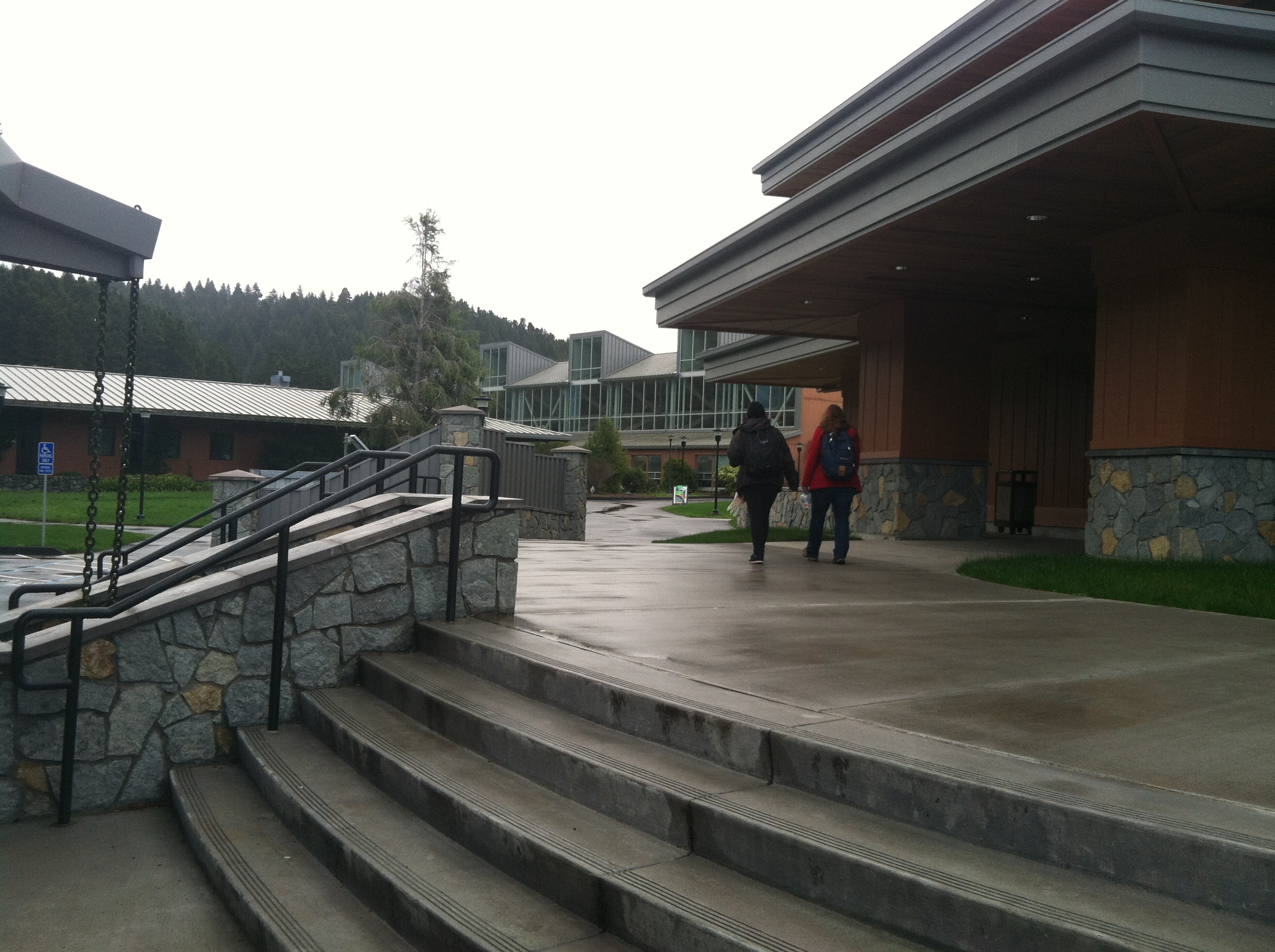 Note: This is the fourth of five parts in the Outpost's weeklong series on College of the Redwoods and its recovery from accreditation trouble. Today's installment examines the reasons for CR's recent downsizing.
In February, College of the Redwoods President/Superintendent Kathy Smith raised some eyebrows — and hackles — when she recommended to the school's Board of Trustees that operations be suspended this fall at the college's Garberville site and its Mendocino Coast Education Center in Fort Bragg.Last year CR closed sites in McKinleyville and Arcata. The news that Fort Bragg might be next didn't sit well with that community.
To understand the context of this downsizing, it helps to start at the national level and then zoom in. When President Barack Obama first took office in 2009, one of the first programs he announced was the American Graduation Initiative, which devoted $12 billion over the next decade to community colleges in the hopes of adding five million college graduates by 2020.
Sounds like a bonanza for CR, right? Not exactly. When it came time to implement the initiative, the state government was in deep financial trouble. So rather than just throwing more money at community colleges, the California legislature tried to be more strategic. In order to achieve Obama's goal of increasing college graduates, the state told community colleges to focus on three things:
1) Basic/remedial classes to get students up to college level
2) Career technical education designed to make students employable, and
3) Classes for students looking to transfer to four-year universities.
This was fine for students needing such classes, less fine for community members taking electives for fun or lifelong learning. As Smith phrased it in a recent interview, "The state said, 'We're not going to give you money for ceramics for seniors.'"
Many CR students had been taking certain classes for years — theater, band, figure drawing. etc. Now, once a student has taken a class three times, the state will no longer give the college apportionment money, which means tuition effectively skyrocketed for many longtime students. Rather than paying it, a percentage of those students simply decided to stop taking the classes.
That was bad news for CR because it contributed to the trend of declining enrollment. Other factors included CR's accreditation troubles and changing demographics, particularly in Mendocino County. With the fishing and timber industries in decline, the North Coast has shifted toward a more service- and tourism-based economy, with more seniors and Hispanics, fewer families and young people.
The biggest chunk of the state's increased community college funding gets awarded based on enrollment growth. So with CR's enrollment in decline, the proposition of maintaining remote campuses becomes exceedingly difficult.
Smith said that her February recommendation to suspend operations this fall in Garberville and Fort Bragg was not a signal that those sites would be shut down. "The recommendation for suspension just means that we're taking time to work through plans for other things," she said.
CR purchased the old Garberville School along with three acres of property for $200,000 in 2010. The college has since spent another $1.6 million on upgrades to the site, including new wiring, a new roof and other renovations. "So we've got $1.8 million into it," Smith said. "We've got to figure out a way to use it."
They seem to have done so, despite the difficulty of funding staff and attracting students for the site (classes scheduled there this spring failed to enroll enough students to justify them). In a recent press release, Smith announced a hodgepodge of current and future uses for the Garverville site, including community education classes for the fall, a possible partnership with Jerold Phelps Community Hospital and rental tenants such as a children's art group, a nonprofit theater company and the Garberville Community School, which has 17 students from seventh to 12th grade.
The future of the Mendocino campus is less certain. The community there feels like the CR brass has mismanaged the campus, killing or wounding popular programs, laying off longtime faculty members and basically treating the place like a redheaded stepchild.
But Smith has argued — in the press and elsewhere — that it is no longer sustainable to run the campus the way it's been operated historically. The CR Board of Trustees recently passed a resolution saying they'd be willing to negotiate with Mendocino Community College over a possible transfer of the site into that school's district.
Tomorrow we'll wrap up our five-part series on CR by looking at how the college has changed as a result of its accreditation scare and what it has planned for the future.
PREVIOUSLY: