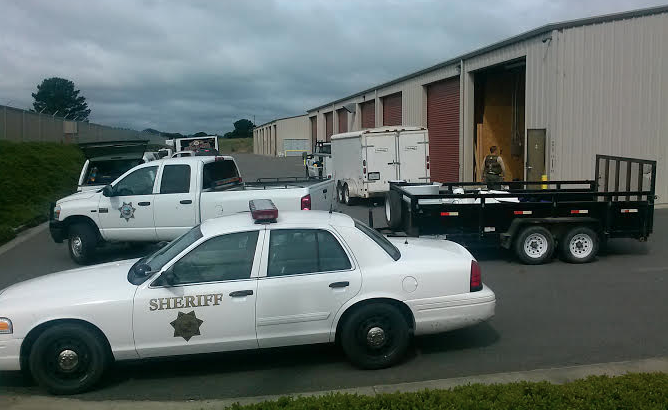 For the second straight day, Humboldt County Sheriff's Office deputies are conducting raids of marijuana growing operations in storage units at a business park on Airport Road in Fortuna. The Lost Coast Outpost's Hank Sims is on the scene and reports that members of the Drug Task Force have discovered 1,376 plants, lights and obviously illegal wiring. Many of the units on the premises contain their own wiring and plumbing.
We'll update this post as we know more.
PREVIOUSLY: Law Enforcement Raid Near Fortuna
# # #
UPDATE, 3:45 p.m.: Point of clarification: The Lost Coast Outpost received a call from Mary Bongio, co-owner of "Airport Road Storage," located at 500 Airport Road in Fortuna, who wanted to make sure her business was not implicated in today's bust. She was concerned — reasonably, in our minds — that since our headline included the capped run of words "Airport Road Storage" that potential customers could be confused.
"We are not affiliated with the business on the corner," Bongio told the Outpost.
So, to be clear, today's raids occurred down the street at 100 Airport Road. LoCO feels bad about any mixup.