Law enforcement is looking for a homicide suspect in Southern Humboldt tonight. They have been at the Brass Rail in Redway and possibly other places in the area, too. According to Melanie Bobo, manager of the Brass Rail in Redway, around 7:30 p.m. multiple law enforcement vehicles (belonging to both CHP and Humboldt County Sheriff's officers) came to her business. "They had eight cops and all their guns drawn on room 1," she said.
Bobo says that law enforcement was looking for a guest, a woman, who was staying in that room. "They said it wasn't a drug charge, " Bobo said. She added, "They said it wasn't a drug charge, but what they did say [was it] was something awful,"
Two women came out of the room with their hands up. They cuffed them and put the women in separate cars. They searched the vehicle, put it on a tow truck and drove it out of there.
Scanner traffic indicates that they are still looking for a "187" suspect which is police code for homicide.
LoCo has calls into both the Humboldt Co. Sheriff's Office and the California Highway Patrol. When we get more details, we'll update.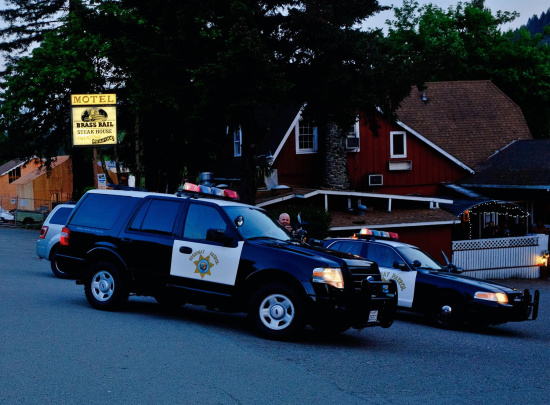 UPDATE 7:11 a.m.:
We've updated with a photo from last night showing law enforcement with guns trained on the room where the two women were located.