UPDATE, 11:45 a.m.: The Humboldt County Sheriff's Office press release:
On 04/18/2014 the Humboldt County Sheriff's Office received information regarding a possible homicide involving a firearm that occurred in the Southern Humboldt area. The Sheriff's Office is currently investigating this allegation with the assistance from the District Attorney Investigator's Office, Department of Justice (DOJ), Arson Task Force, and the California Highway Patrol (CHP).

Benjamin Jasper Carter is wanted for questioning in association to this investigation. Carter is described to be a white male, age 33, 6'3", 180 lbs, brown hair, and blue eyes. Carter's head may be shaved bald and he may have a goatee and mustache. Carter has multiple tattoos on his chest, back, arms, legs, and neck. Carter is associated with a black GMC truck, CA license 6R68046. The truck has a blue tailgate with an Oakland Raiders design and front end damage. Carter is believed to be armed and dangerous. If seen, do not approach and contact law enforcement.

Anyone with information for the Sheriff's Office regarding this case or related criminal activity is encouraged to call the Sheriffs Office at 707-445-7251 or the Sheriffs Office Crime Tip line at 707-268-2539.
# # #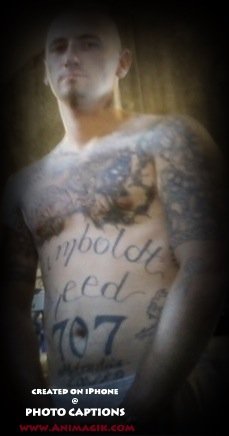 ORIGINAL POST: According to a spokesperson from the Humboldt County Sheriff's Office, there has been a woman arrested in connection with a homicide that occurred in the Connick Creek area west of Garberville. A man, Benjamin Jasper Carter, age 33, is sought for questioning in regards to the crime.
The Department of Justice and the Arson Task Force are responding this morning to the scene of a trailer fire associated with the homicide of a male victim.
Carter has brown hair (when not shaved,) blue eyes and numerous tattoos. Carter has cursive words on both sides of his neck, skulls and the word "lover" on his abdomen, and on his chest, he has the phrases "Humboldt Breed 707" and "Real Bad Boy, Real Good Man," along with other inked designs. His last known vehicle was a '98 black GMC License plate 6R68046. The truck has a blue tail gate with an Oakland Raider design and front end damage.
Carter is believed to be in possession of a sawed off shotgun and an AR15 style rifle.
Anyone with information about the crime or of the whereabouts of Carter is asked to contact the Humboldt County Sheriff's Office at (707) 445 7251.
(Benjamin Carter, photo taken from his Facebook profile.)
Previously:
Note: an earlier version gave the wrong license plate number.