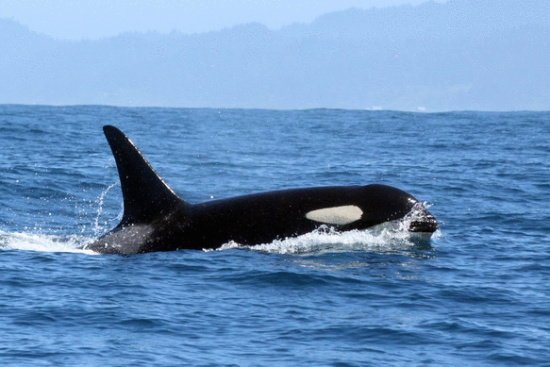 Photo by Ray Palacios
While news of a pod of orcas taking down a grey whale calf in Monterey Bay has been making the rounds, sightings of killer whales off our own coast have local scientists racing for the water.
Yesterday marine mammal biologist Jeff Jacobsen and a crew that included Naked Whale Research's Cene Bryant received an orca-sighting tip from fisherman Mike Andersen. "The info was so good we had to go out," Jacobsen said, "and an hour-and-half later had made it out 'The Jaws' and were heading south."
A hydrophone picked up the distinctive trills and whistles of the pod. After several miles and a brief losing-track, the crew was rewarded. "They were chasing salmon, we saw several kills and collected a nice set of fish scales from where they'd just pounced and milled," Jacobsen relayed. (Those scales will go to NOAA in Seattle to be identified as to species and age.) The effort is part of the overall study of Southern Resident Killer Whales.
And here's your chance to get involved: Have a telescope? Ginormous binoculars? From Table Bluff or above Centerville, train your eyes about three-four nautical miles out. Report any sightings and stories to Naked Whale Research. No guarantee they'll be visible from land or sea, of course. As Jacobsen said, "There is a 'killer whale' chance they'd still be there – which translates to they could be anywhere by now!"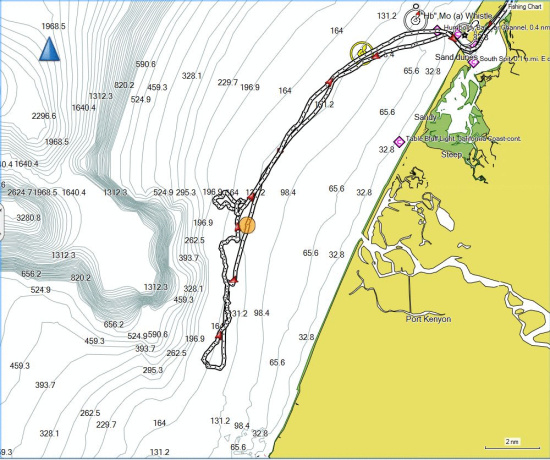 Damned fish
In other exciting news, the much-hyped DamNation film premieres on the North Coast this Thursday at Ocean Night, brought to you by the Northcoast Environmental Center, Humboldt Surfrider, Humboldt Baykeeper and, for this event, CalTrout and Friends of the Eel River. From the filmmakers' description:
This powerful film odyssey across America explores the sea change in our national attitude from pride in big dams as engineering wonders to the growing awareness that our own future is bound to the life and health of our rivers…. Where obsolete dams come down, rivers bound back to life, giving salmon and other wild fish the right of return to primeval spawning grounds, after decades without access.
And yes, the Klamath is on the agenda. Tune into Coastal Currents tomorrow at noon on KHUM 104.7 FM for an interview with Earth First activist Mikal Jakubal who is featured in the film.
Sharky shark
For whatever reason, a photo of a great white shark carcass washed up on the Klamath River beach has been blowing up Facebook recently, causing a certain amount of excitement.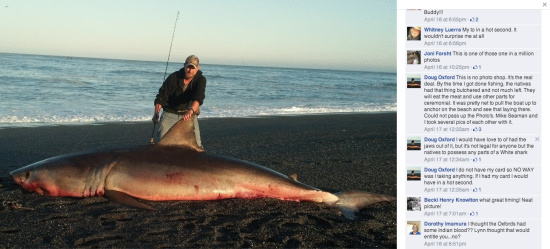 Dr. Taylor Chapple is a postdoctoral researcher at Hopkins Marine Station of Stanford University who works with a team at Stanford that has been studying sharks off the Pacific coast for almost 30 years. Most of what we do is with "free-swimming" animals, Chapple said, "so any time we hear about stranded animals or the similar we get pretty excited."
Chapple provided some advice via email:
What should someone do, ideally, if they come across a great white carcass?
If anyone comes across a carcass, the first thing to do is call California Fish and Wildlife. White sharks are a protected species, so CDFW will respond – this will also prevent folks from illegally taking any parts of the animal. CDFW will also organize sampling the animal. The next thing, which is incredibly important for us, is to take photos of the dorsal fin. We can use the unique characters on the back edge of the fin to identify an individual.
How often does a shark wash up?
White sharks don't wash up very often. We see small salmon sharks on the beaches, but it's a rare occurrence to see a full-sized white shark
What could cause such a thing?
There are a lot of factors that could result in a shark on the beach- sickness, disorientation, old age etc. With salmon sharks we think the little ones get cold-shocked. Hopefully, getting samples and information about the body condition of the animal will help us answer such questions.
​What critical info would you be looking for and why?
The most important thing for us is the photo of the dorsal fin. This fin shot will allow us to identify the individual- with a population in central California of only a few hundred, we know most of the animals that cruise up and down the California coastline. Every fin helps us better understand the population.
What's the least understood fact about white sharks?
White sharks are incredibly discerning and complex. They're are absolutely not the mindless killers that Hollywood makes them out to be.
Be part of things
Reef Check engages scuba divers and community members in the collection of scientific data along our rocky reefs and kelp forests. Due to a need to fill spots, Reef Check is offering a special last-minute deal forupcoming trainings in Fort Bragg: take the class for $50 instead of $200. This includes a weekend in the classroom and pool learning about the marine environment, scientific diving techniques, species ID, Reef Check monitoring protocol, a weekend doing training dives and a personal set of survey gear.

Training dates:
Saturday, May 3, 9 a.m. to 5 p.m. at CV Starr Aquatic center classroom.
Sunday, May 4, 9 a.m. to noon at CV Starr Aquatic center pool, 1 p.m. to 5 p.m. at CV Starr Aquatic center classroom.
Training dives at Van Damme State Park beach, May 17 and 18 from 9 a.m. to 3 p.m.
You can also help collect data for the Coastal Observation and Seabird Survey Team (COASST), a citizen science project dedicated to involving volunteers in the collection of high quality data on the status of coastal beaches and trends of seabirds. COASST volunteers systematically count and identify bird carcasses that wash ashore along ocean beaches from northern California to Alaska. Volunteers need no experience with birds, just a commitment to survey a specific beach (about 3/4 mile) each month.

A training session takes place Sunday, May 4 from noon to 6 p.m. in Fortuna's River Lodge Conference Center. Reserve your spot via email or 206-221-6893.
PREVIOUSLY