Despite rarely being activated, your Lost Coast Outpost's finely tuned celebrity detection devices have nonetheless captured some glittery faces over the years. We've featured the mugs of A-listers, Hollywood hunks, NBA all-stars, doofy celebrity chefs.
None have been shinier than this one.
We'd heard rumors that Brad Pitt was staying in Eureka for a multi-day magazine photo shoot with iconic photographer Mark Seliger. Reddit was abuzz. But now we have our first photographic evidence. Below, feast your eyes on Mr. Jolie looking very much like himself yesterday at Eureka's Black Lightning Motorcycle Cafe along with owners Cassandra and Jeff Hesseltine and brood (she's also our county's film commish, of course).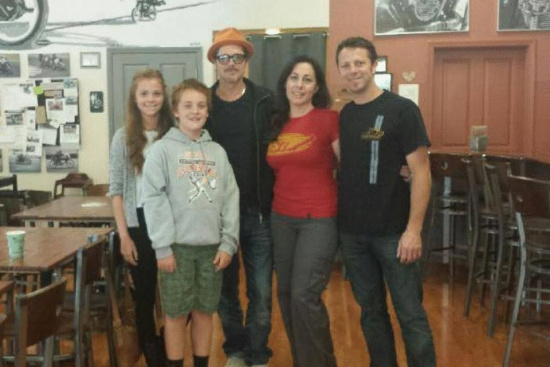 "He was pretty excited about the German pancakes," Cassandra told LoCO of Brad's BLMC experience.
In addition to pancake eatin' and motorcycle gabbin', Hesseltine accompanied Pitt and the photog crew around Humboldt for both days of shooting which took the megastar to Luffenholtz Beach and Redwood State Parks in both the northern and southern parts of the county. She was hush on where and when the photos may appear but assured us that Humboldt will look good when they are released.
"People will get to see some beautiful places," Hesseltine said. "It'll be really good for tourism in our area."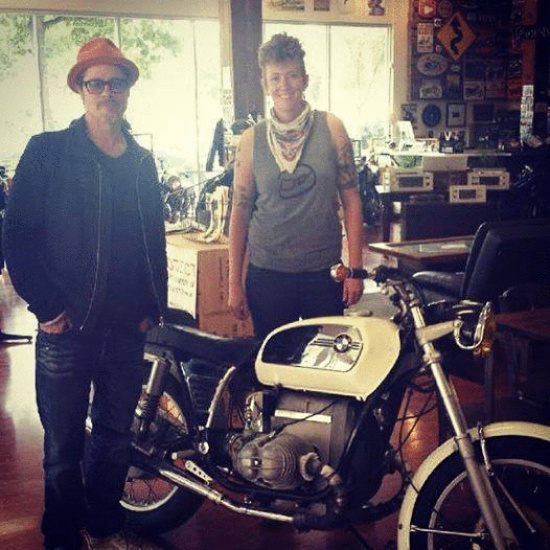 (Above: Our man and BLMC's Trinia Cuseo, who was recently featured in this LoCO post.)