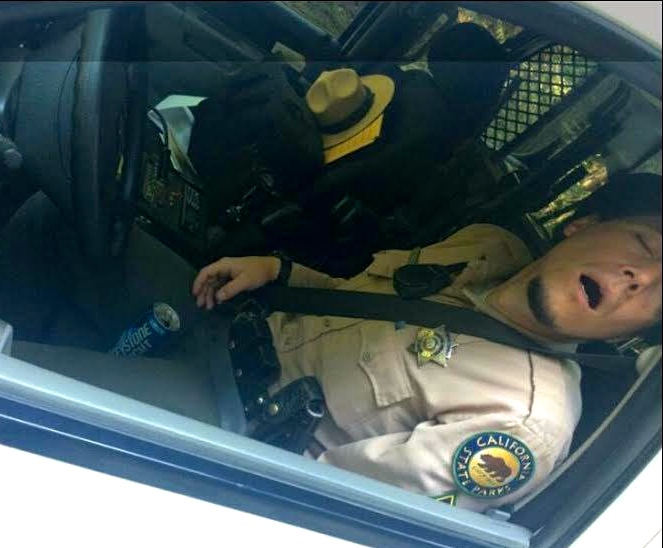 A California State Parks ranger has been stripped of his peace officer status and placed on administrative leave after he was arrested for allegedly driving his state-issued vehicle under the influence of alcohol. A source snapped the above photo of the ranger, whose name is Tyson Young, after trying and failing to wake him and then calling 911, he told the Outpost.
This source, who asked to remain anonymous, said that on the afternoon of Aug. 15 he spotted a State Parks vehicle parked irregularly along State Route 254, aka the "Avenue of the Giants" in Humboldt Redwoods State Park. When he stopped to investigate he noticed that the park ranger's head was leaned against the inside doorjamb.
Worried that the ranger might be hurt, the man tried to wake him, calling out "sir! sir!" and banging on the front and back of the vehicle, he said. Then he reached through the open window. "I shook him, really shook him," the man said. "And then I saw the beer between his legs."
The man said he called 911 and then snapped a photo of Young while waiting for officers to respond. Before they arrived, however, Young woke up and started driving northbound.
Officers responding from the California Highway Patrol's Garberville office spotted Young's vehicle heading north near Myers Flat and pulled him over.
"Young displayed objective symptoms of intoxication and was detained for a DUI investigation," said CHP Officer Patrick Bourassa.
Young was then taken to the Garberville CHP office where he was evaluated and subsequently arrested for driving under the influence, Bourassa said. "He was cited and released to a State Parks supervisor with a notice to appear in court," Bourassa said, adding that the Garberville CHP office is conducting an investigation which it will soon forward to the District Attorney with a request that DUI charges be filed.
Young is also facing an investigation from California State Parks. "We do not tolerate the use of alcohol in the workplace," said State Parks Spokesperson Vicky Waters. "We take matters like this very seriously." Young has been placed on administrative leave pending the results of the investigation.