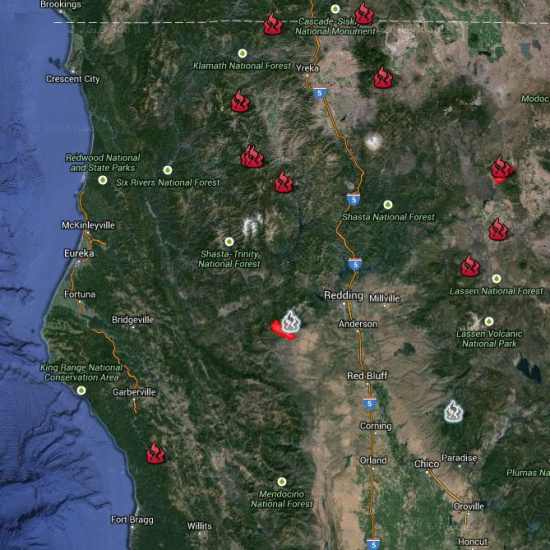 Cal Fire map showing rough locations of current and recent fires [Follow this link to go to the original map where clicking on individual fires brings up more information.]
"Danger," warns the Fruitland Fire Department's Facebook page, "Our county resources are at an all-time low… . NO AIRCRAFT available! We are drawn down to bare bones." Humboldt's fire resources are being sent to other places as blazes devour woodlands and threaten homes. Yesterday, Governor Jerry Brown proclaimed a State of Emergency "due to the wildfires burning in Northern California."
Fire departments across the county were cautioned today about the serious lack of fire fighting resources available in our area. Cal Fire Battalion Chief Marty Hobbs explained, "Humboldt is drawn down to critical levels. [In case of a fire,] additional resources coming to the county may not be available."
There are good firefighting resources here in Humboldt, according to Diana Totten, Captain of a Briceland fire engine that is currently staffing a Cal Fire Station. She pointed out that "local government resources—both volunteer fire departments and paid fire departments—are staffing a lot of Cal Fire stations in Humboldt and Del Norte County due to the draw down of state and federal resources that are on fires statewide."
Hobbs said that there are also three inmate crews stationed in several areas of the county.
However, Totten pointed out, "There are no aircraft sitting waiting. They have to be pulled off another fire [if they are needed here.] All aircraft are committed."
The aircraft will mostly be available and can be pulled off other fires if needed, Hobbs explained. He said that already today a helicopter had been brought up from the Lodge Fire in Mendocino when there was a report of a fire near Alderpoint. Hobbs said that "we put a lot of priority to new fires." But, he said, if it should happen that the aircraft are defending structures already in other areas, fire command is "reluctant to let them go."
Totten pointed out, "Priority is where whole towns are being threatened like in Burney. We're a lot lower compared to whole towns burning up." (A 23,000 acre fire is currently forcing patient evacuations at a hospital in Burney.)
Hobbs said that though Humboldt is normally pretty dry and hot this time of year, the drought has created "fuels that are dryer than normal. The fuels are acting like it is September now—not like it is the beginning of August."
Totten reassured the community that "the local volunteer fire departments have done extensive training and acquired the equipment necessary and the training for a time like this. We're working under Cal Fire's direction. We're helping them to help us."
Both Hobbs and Totten emphasized the need for residents to be diligent and not allow fires to start. The Fruitland Facebook page recommended that everyone "[b]e extremely careful. Leave all gas motors, weedeaters, chainsaws and mowers off for the next few days."
Nonetheless, fires in other parts of northern California are continuing to grow fast.
The Lodge Complex, for instance, a series of fires started by lightning in northwest Mendocino, has grown to 2200 acres as of this morning and is only 20% contained. Seventeen structures are threatened. (See map below —click to make it larger. Map provided by David Jeffreys)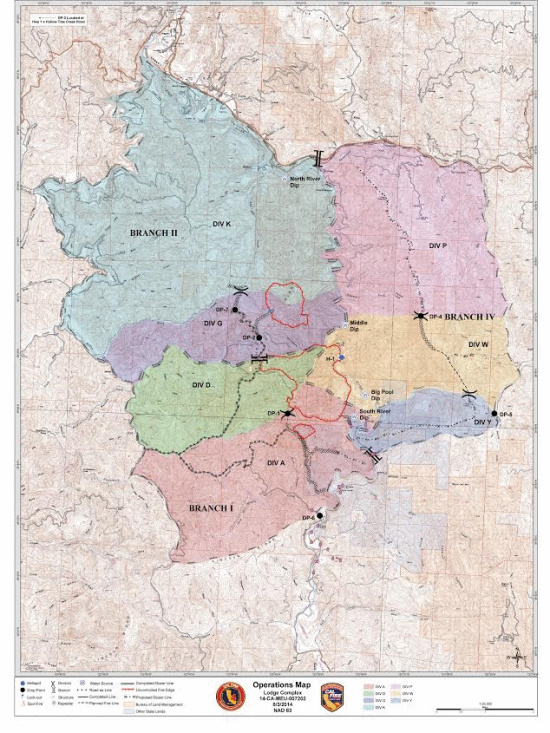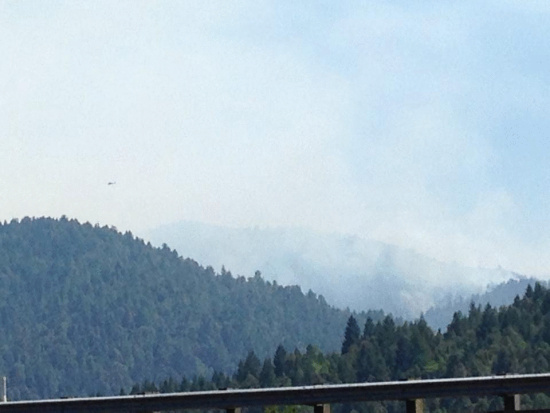 A helicopter fights the Lodge Complex fires. Photo by Paria Amber Wallan.]
Smoke from that fire and from fires east of here are drifting into Humboldt County in thick layers. "We were starting to get false reports of fire because of the smoke," Hobbs said.
In addition, more fires may be in store for Humboldt. There is lightning predicted for eastern Humboldt. "We are worried about Dinsmore, Willow Creek and Bridgeville," Fruitland's Facebook page said.
With fire resources strained and a possible lightning event coming, everyone needs to be extremely fire safe so that fire fighters and their equipment will be available if needed.