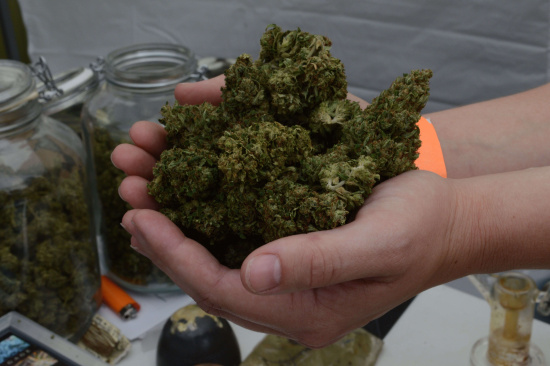 Yesterday I went down to Area 101 today for the first-ever Healing Harvest Farms medical cannabis farmers' market. We're on the verge of September, and it was a warm, breezy, dry day out there. Perfect day to experience some bounty.
Area 101 is that colorful collection of buildings on the east side of the 101 freeway, about 10 miles north of Laytonville. There's that billboard that says "Welcome to Area 101," the one with the flying saucer. And the buildings are painted with oms and eyes and Ganesh-like figures. That's what I'm talking about.
It's actually a sweet venue. There is a building with a full kitchen, nice bathrooms and lots of cute little zen nooks and crannies all over the place. There are well-maintained grassy areas, there's a stage and a teepee. The Emerald Cup crew is based there.
The farmers' market was back away from the freeway, in a fenced off area. Entry requirements were an ID and a valid medical marijuana recommendation. You had to join the Healing Harvest Farm medical marijuana collective to enter the market area too.
On the inside, cannabis farmers shared their products with attendees. You could find dabs, soil amendments, clones, seeds, glass, weed flowers, weed salves, tinctures, edibles and a bunch of local weed peeps.
One group in particular — the Happy Day Farms people out of Mendocino — had an impressive spread with hella produce and cannabis too. I saw it with my own eyes. Cannabis right there on the table, next to the other fruits and flowers, no big deal.
Everything was fine. Cannabis doesn't bite. It may give you a rash, paranoia or a wicked case of the munchies, depending on how you interact with it. But no adult human should be denied access to it. People shouldn't have to sneak around to get cannabis. Drop the taboo. "Add it up. It all spells duh." (That line's from Buffy the Vampire Slayer. I'm a fan.)
So there was some produce there, but the other vendors mostly just kept it to the niche cannabis products. Although, there was another produce vendor and BBQ for sale outside the restricted area.
The friendly people at the Gage Green Group showed off big jars of weed flowers. And the 3rd Gen Family showed off their bomb diggy hash. The Bud Sisters had samples of their salve. The Mendocino Cannabis Policy Council had informative brochures.
All told, I saw squash and apples and pears and peppers and world-class cannabis flowers. I saw leeks and tomatoes, peaches and dab rigs. I saw picked beans and marijuana clones, carrots and cold water hash.
There was the cannabis, all up in this sort of farmers' market setting. But this is still a far cry from something like, say, the Arcata Farmers' Market, where people can come and go as they please (but you can't smoke anything). This event required paperwork and ID (and you could smoke of the ganja).
I did not see piles of pounds nor did I see piles of cash. In fact, I don't recall money being exchanged at all. And this was not an environment where people were buying wholesale. It was more like a vendors fair with some fresh produce thrown up in the mix.
Overall, the vibe at Area 101 is laid back, although I did see some bro trying to start a brawl with another guy twice his size in the parking area. Fisticuffs averted. At least while I was still there. The event ran all day, from 2-10 p.m. I bailed at about 5 p.m.
I thought the coolest thing was seeing cannabis treated as another agricultural product at the Happy Day Farms table. Total highlight. That definitely wouldn't fly at the Arcata Farmers' Market though. You can bring produce to the cannabis events, but you can't bring cannabis to the longstanding produce events. At least not yet.
But I do look forward to more cannabis farmers' markets, even if they have to be restricted access like this (the whole 215 thing). Eventually, Humboldt or Mendo could become home to the cannabis version of the Pike Place Fish Market in Seattle.
You know, maybe once a month, in a big spot, like Francheschi Hall at Redwood Acres in Eureka. Just farmers with pounds and pounds, and buyers with cash, ready to go. A big, open market atmosphere. Go buy an 1/8th, an ounce or five pounds kinda thing. Grab a gram of shatter or a whole sheet of it.
Humboldt would be a good place for this.
###
There's a meeting at the Laytonville Garden Club today (Sunday) from 4-6 p.m. about the rumor (or not-rumor) that private military company folks are raiding private marijuana gardens in Mendo. I heard that Sheriff Allman will be there to address community concerns. Kerry Reynolds from KMUD news is going to cover the action. Stay tuned to KMUD for her reporting.