UPDATE 7:21 p.m. Cal Fire Press Release:
The Fortuna Emergency Command Center (ECC) received multiple 911 calls for smoke building in the Snow Camp area South of Berry Summit.

A full vegetation fire response was made which included one Air Attack with a second Air Attack Trainer plane, two Air Tankers and a Helicopter. Ground resources responding including Fire Engines from CAL FIRE, Humboldt Bay Fire, Fortuna Volunteer Fire Department, Miranda Volunteer Fire Department along with Water Tenders from Blue Lake Volunteer Fire Department and Arcata Fire Protection District, along with two CAL FIRE inmate crews and a private bulldozer.

As the fire was located by Air Attack who reported to the ECC and responding units, that the size of the fire was approximately two acres burning through grass and brush toward timber. All responding units remain at scene and have contained the fire at seven acres. Personnel are currently mopping up in heavy timber and slash to extinguish all remaining embers and are expected to remain at scene through the night.

Fire Departments from throughout the Humboldt, Del Norte, Santa Clara Counties and privately owned bulldozers have been assisting CAL FIRE in a draw-down level by covering stations left vacant by resources sent to fires in other parts of the State.

CAL FIRE would like to remind everyone that peak fire season is just beginning for Northwest California and to be careful with any possible ignition source near dry vegetation. For information on ways to protect you home from wildfires visit www.ReadyForWildfire.org and for tips on ways to prevent wildfires visit www.PreventWildfireCA.org
###
Original post: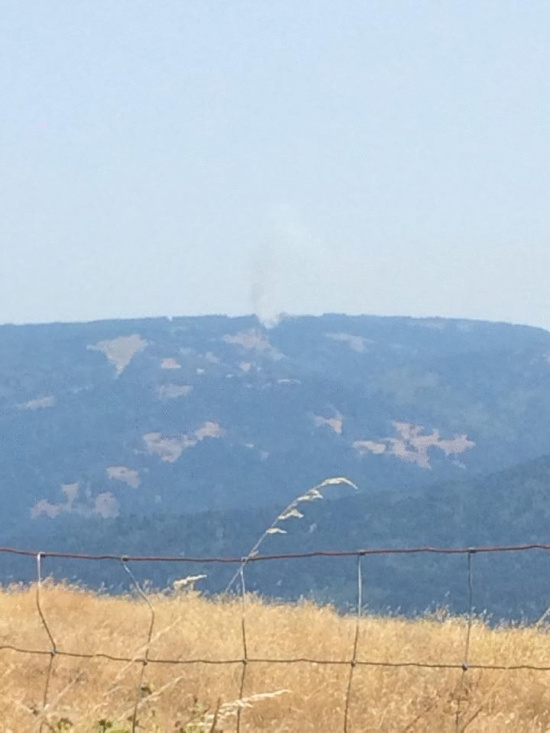 Smoke rising from what readers are calling the north side of Snow Camp [Photo sent in by Amy Miller.]
Scanner traffic and readers are reporting a fire on the north side of Snow Camp Mountain east of Kneeland. Those working on the situation are calling it the Snow Incident and describe the fire as burning in grass and light brush. Reportedly the fire is "contained by roads" on multiple sides but fire lines are also needed.