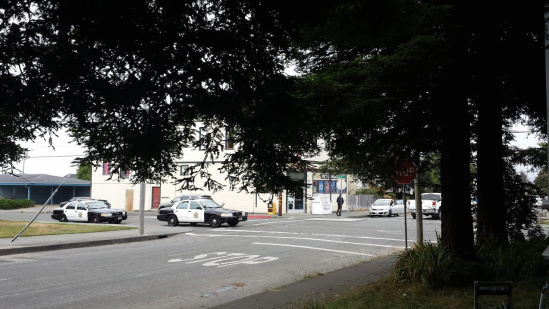 Law enforcement responded to Pat's Market this evening to the report of another robbery. [Photo provided by a reader.]
For the second time in two days Pat's Market in Eureka was the subject of a robbery attempt. Today, about 7:30 p.m. store clerk Tamara Tamra Corley was working when a man wearing a mask and a hoody walked into the store and immediately up to her register. He demanded cash but Corley was fed up. Not only had they been robbed yesterday but, she said, "We had three break-ins about two weeks ago."
She explained to the Lost Coast Outpost that she not only didn't open the cash drawer for the would-be robber but she reached over the counter and "pushed him out of the store." Dumbfounded, the man turned and ran off.
Just to underline how impressive she is, Tamra Corley answered the phone at 9:11 p.m when we called to confirm the robbery attempt and sounded as casual as if she had just wiped up little spilled milk!
The suspect is about 5' 8" with a medium build. Today, he was wearing a black hoodie (yesterday, a blue hoodie) and black shoes with white trim on them.
Previously: