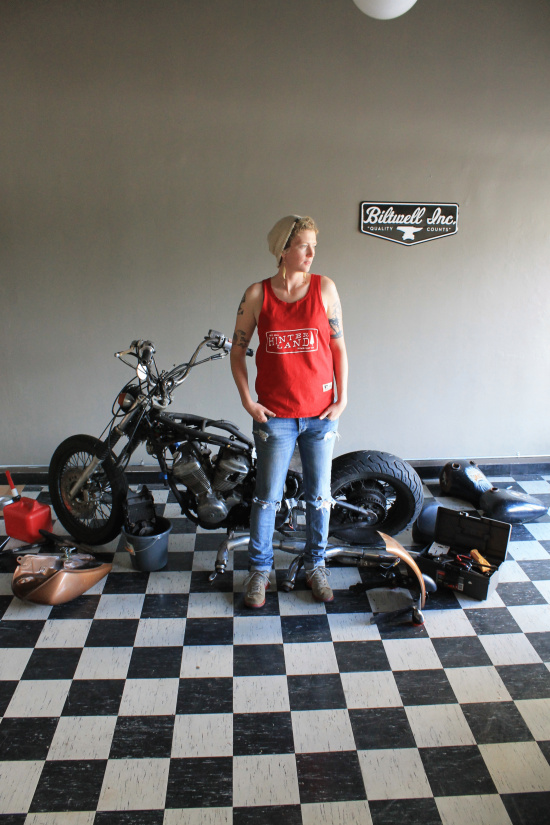 Trinia Cuseo poses with the motorcycle that is being rebuilt. [Photos all provided by Cuseo.]
When Father Eric Freed was murdered in January of this year, Trinia Cuseo wanted to be part of changing this community for the better. "I thought about how I could help. Since I love bikes and I work at a motorcycle café [and] shop with builders coming in and out all day, I came up with rebuilding a custom motorcycle and raffling it off to raise money to help our community's struggle against meth abuse," Cuseo explained.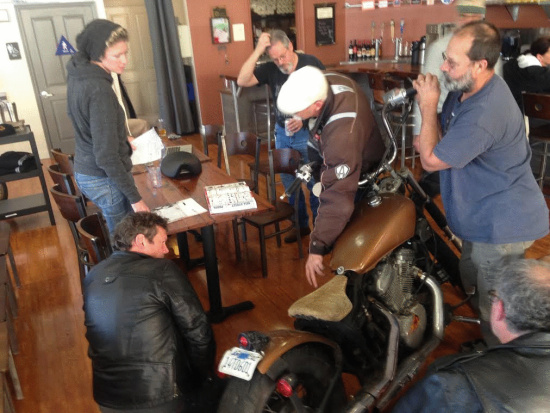 Volunteers gathered around the motorcycle discussing ways to customize it.
Cuseo, who works at the Black Lightning Motorcycle Cafe in Eureka, said, "I talk to gear heads all day." She started sharing her idea. She went to Indiegogo to raise the initial $1000 to get the project off the ground.
She was given a 1993 Honda Shadow VT 600 with only 6000 miles on it to rebuild. Through her own skills and with a little help, she got the bike running to confirm that it was worth working on. After that,she gathered sponsors and rallied her helpers. "I asked a bunch of people— friends, mechanics. I asked lots of favors. No one ever said no. Some said yes in a big way."
She asked people to take on aspects of the project. "Some people could bite off little bits of what we needed to do," she said. Together, volunteers fixed or replaced parts that were broken or worn. It is almost done. (See photo below.)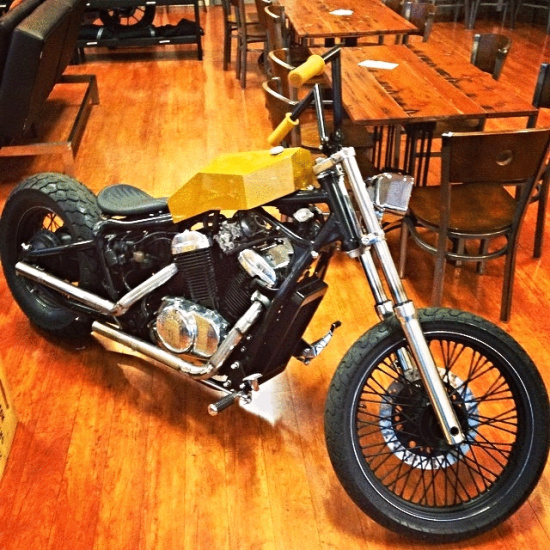 Nearly finished custom bike which will be raffled off to raise money for the Humboldt Meth Abuse Awareness Program.
Next week, the bike when the bike is 100% ready, it will be raffled off. "We're pushing to sell 400 raffle tickets to raise $10,000 to go to the Humboldt Meth Abuse Awareness Project," Cuseo said. Those interested in buying a $25 ticket can reach Cuseo at hinterland.empire@gmail.com or buy tickets at the Black Lightning Motorcycle Cafe.
See more photos of the project here at Cuseo's screen printing/apparel and design business.