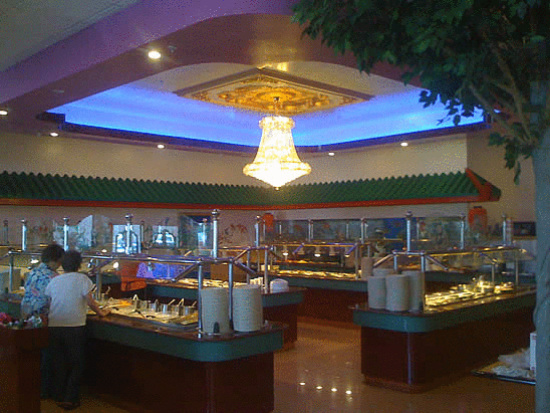 Oriental Buffet in Arcata (image from company's website)
The owners of Oriental Buffet in Arcata and Sushi Boat Buffet in Fortuna have been cited and fined more than $1 million dollars for wage theft by the California Labor Commissioner. The former restaurant is owned by Li Ming Zhao & Quin Wen Wang while the latter (formerly also known as Oriental Buffet) is owned by Zhao & Wang, Inc. (We're assuming they're the same folks).
The Labor Commissioner's Office reports that 10 buffet restaurants in Northern California were cited after an in-depth investigation, which "revealed that servers were paid an average $1.15 per hour for 72 hours of work each week. Some servers were either not paid at all, or were just paid $200 per month. Kitchen workers were paid very low fixed salaries, without receiving additional compensation for any overtime."
Zhao and Wang were fined $709,285 for violations at Oriental Buffet in Arcata and $364,203 for violations at Sushi Boat Buffet (formerly known as Oriental Buffet) Oriental Buffet in Fortuna (rechristened Sushi Boat Buffet in 2012 under the same ownership).
This wage theft was accomplished in part through falsified timecards and payroll records, according to the Labor Commissioner. The working conditions, as described by the agency, sound an awful lot like slave labor:
Some of the servers who wanted to report taxes were required to purchase their paychecks from the employer in cash for the full amount, and some servers were required to pay employers $8 in cash each day in order to work at the restaurants. The investigations further revealed that workers were not given meal or rest breaks as required by the law, and were paid in cash without the required itemized wage statements.
China Buffet in Eureka was busted last year for similar violations, according to the Labor Commissioner's Office. The owner, listed as China Buffet of Eureka, Inc., was fined $95,154. The restaurant was previously cited for minimum wage and cash pay violations in 2007 and 2010.
So do the workers get their back pay? Sounds like it. The Labor Commissioner's Office says, "The citations include civil penalties as well as wages, premium and liquidated damages owed to more than 600 workers for multiple wage theft violations."