Humboldt County's 2013 Crop and Livestock report, released last week, shows that 2013 was the legal ag sector's strongest year since 2007.
From the 2013 Crop and Livestock report:
The estimated gross value of the County's agricultural commodities is $269,310,000, which is an increase of approximately 6% over 2012's production values. The most notable increases were in the value ofagriculture and livestock products.

The County's leading commodities are ranked by value below:

Livestock - $76,921,000
Timber Production - $72,520,000
Milk and Milk Products - $61,889,000
Nursery Stock - $49,811,000
Field Crops - $4,860,000
Fruit and Nut Crops - $ 1,882,000
Vegetable Crops - $1,427,000

Timber production was up over the previous year, as were aquaculture and flower products.
Beef and veal production slid downward, along with milk and cheese. 2013 was rough for hay, which saw a 26% decrease in per-acre productivity, as well as a 7% market price drop.
The number of acres devoted to 'sustainable agriculture' almost doubled in 2013.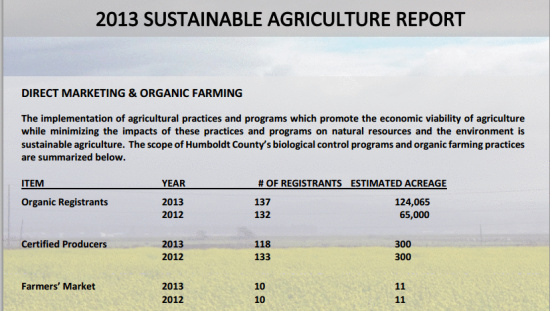 The report also includes nuts, pests & noxious weed updates. As government reports go, this one's actually easy to read. Read the full report here (PDF).
For historical reference, compare ag reports from 1951-2005. The current report does not mention the word "marijuana."