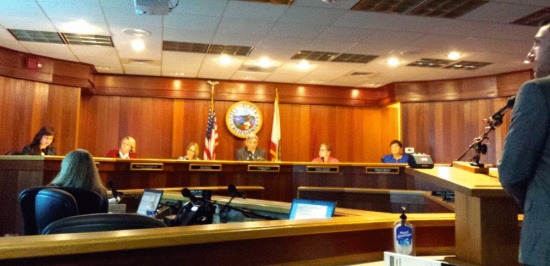 Eureka City Council chambers were pushed past capacity this evening, with attendees overflowing into the hallway, as the Eureka City Council, city staff and local residents gathered to discuss homelessness, its concurrent problems and possible solutions.
"This is a community conversation," said Eureka City Manager Greg Sparks. The focus of the meeting, he explained, was to explain what the city has been doing to address the various homeless encampments scattered in and around the city and to explore some options for alternative approaches to addressing the needs of the homeless while reducing the crime, pollution and nuisance problems associated with them.
The most informative and intriguing portion of the meeting came with a demonstration from Rob Holmlund, the city's community development director. Informed by a recent policy paper commissioned by the city as part of its general plan update, Holmlund and his department have been analyzing a couple of approaches employed elsewhere — namely, sanctioned tent cities or "tiny house" villages.
Holmlund showed slides of tent cities, a concept that has been employed in such places as Fresno, Portland, Ore., Austin, Seattle and Reno. The first image showed rows of dome tents sitting atop wooden pallets in a concrete playground. These setups allow a third-party (say, a church) to operate the tent camp as transitional housing.
"Tiny house" villages work much the same way, Holmlund explained, but they're a bit more expensive. The "houses" are really no more than sheds — or "detached bedrooms" — 100-200 square feet with no running water or electricity. There would need to be shared bathrooms and a kitchen onsite along with porta-potties. This approach has been adopted in Eugene, Olympia and Ithica, N.Y., among other places.
So far these are just potential solutions. In fact, the policy paper, prepared by Sacramento firm Focus Strategies, recommends against transitional housing strategies in favor of more permanent solutions.
"All available evidence," the authors say, "shows that providing homeless people with housing, without making participation in other services a pre-condition, is the most effective way to reduce homelessness."
Eureka is home to roughly 600 homeless people, or about 2.2 percent of the city's population, according to the most recent figures. That's higher than the state and national averages. "The reasons for the larger than typical numbers are not known," Focus Strategies says, "but it is not uncommon in rural areas for homeless people to cluster in transit-accessible population centers where services and housing are more available."
Holmlund said the city has identified 12 potential sites for an encampment or tiny house facility. They include the Eureka corporation yard (near Costco), Cooper's Gulch park, the Bayshore Mall's north parking lot, the Samoa Airfield's south parcel, property off of Marina Way, the privately owned Crowley property (off Hilfiker Lane), land east of the Samoa Bridge, the Board of Education property, the McKay Track (owned by the county), the Sheriff's woodlot (also county-owned), and the private Lucas property.
Holmlund then proceeded to show computer mock-ups of what a tent city or tiny house facility might look like if it were placed in the Bayshore Mall's north parking lot. The images showed tightly-clustered tents or sheds arranged in rows and surrounded by cyclone fencing. Porta-potties and potted plants were also tucked into the yard.
Costs for such a set-up could range from $50,000-$100,000 for a tent city to $300,000-$600,000 for the tiny houses.
Next, Phil Crandall, the director of the county's Health and Human Services Department, addressed efforts the county has been making along with possibilities for future opportunities. He said his department is looking at the possibility of repurposing the Multiple Assistance Center as an intake/assessment facility for local homeless folks.
Cyndy Day-Wilson, Eureka's city attorney, said there are potential liability issues with each of these possible new approaches, though there's also liability exposure with the current situation, she added — particularly with environmental pollution.
Sparks wrapped up the presentation by explaining to the new council that its next steps should include providing direction to staff, reaching out to other cities and identifying criteria for possible site analysis.
After the city's presentation, Mayor Frank Jager opened up the floor to public comment. Many people expressed gratitude that the city was moving forward and proactively addressing the issue, though there was still some public polarization. Eureka resident Sue Brandenburg expressed her frustration with the homeless and urged the council to "secure your borders" against more coming in.
Local activist James Decker, on the other hand, argued against criminalizing homelessness. "Once you turn these folks into criminals they are no longer employable," he said. "They're part of the permanent underclass."
Following public comment, the now all-female city council, including newly seated members Natalie Arroyo and Kim Bergel, adjourned for a short break before holding the regular city council meeting.