UPDATE, Thursday, 9:40 a.m.: As some of our CNN-watching commenters noted, the segment DID NOT air last night. Talk about the runaround. Here's host Mike Rowe explaining via Facebook:
# # #
UPDATE, 3:33 p.m.: Oh, for the love of cheese. LoCO received another message from Cypress Grove indicating they'd been informed that Somebody's Gotta Do It is back on for tonight!
Take that, Fidel!
# # #
UPDATE, 1:31 p.m.: Nope. Due to improved international relations, Cypress Grove's star-turn will not be happening tonight. From our cheesy friends:
Our episode on CNN (that was supposed to be on tonight) has been pre-empted by coverage of Cuba.

http://www.cnn.com/2014/12/17/politics/obama-cuba-castro-relations/index.html?hpt=hp_t1

No word on when it might air …
Thanks a lot, Obama. -MD
# # #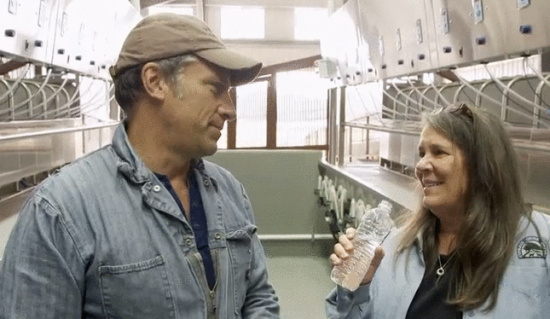 Original Post: A few months back, LoCO noted that reality TV good guy Mike Rowe was in town filming segments for his new CNN show Somebody's Gotta Do It, which focuses on offbeat success stories, something Humboldt is rich in. It was at this time that LoCO also learned that people really, really, really like Mike Rowe. Who knew? Anyway…
Well, the big night has arrived for one of the lucky local businesses Rowe deemed interesting enough for cable news. Tonight at 9 p.m., CNN will air the Somebody's Gotta Do It episode "Goat Cheese Queen" which focuses on Cypress Grove and specifically founder Mary Keehn. Congrats, cheese queen.
All well and good, but who wants some free cheese already? Yeah! To celebrate their moment in the national spotlight, Cypress Grove is feeling generous and is giving away full wheels of Humboldt Fog and Truffle Tremor as well as other swag. This is one of those Facebook gimmicks, so you gotta click on over here for full details on how to enter.
Oh, and, of course, you should also remember to tune in to watch your neighbors show America a non-weed aspect of Humboldt. Episode teaser below: