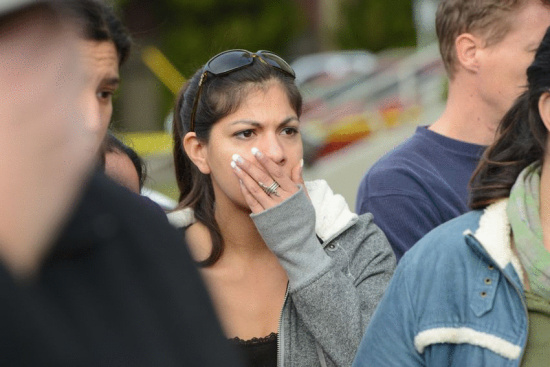 File photo by Mark McKenna
Humboldt County has likely never suffered a New Year's dawn as shocking and traumatic as 2014's. Residents awoke on a crisp, dazzlingly clear New Year's morning, the symbolic new beginning, only to learn of the horrific end that befell Father Eric Freed, beloved priest at St. Bernard's Catholic Church in Eureka. It was a crime so disorienting in its apparent depravity that it took the community awhile to even begin searching for meaning.
That struggle — to make sense of the most senseless violence, to find blame, causation, a remedy — continues almost a year later as the trial of suspect Gary Lee Bullock approaches. Some have blamed the late-night release policy at the Humboldt County jail. Others pointed to insufficient resources for mental health treatment and screening. (The Sheriff's Office has responded to those two concerns.) Still others said Humboldt County's "drug culture" is at fault, while a misguided few conflated the tragedy with our local homeless epidemic. There are certainly other theories as well.
It's tempting, in retrospect, to see Freed's murder as an omen for the year to come. His death was merely the first of 16 homicides in Humboldt County this year, the highest annual total here in at least 30 years. The average over that period was about 8 1/2 homicides per year, with a previous high of 15 back in 1988, according to the California Department of Justice. Freed's murder was also the first of six homicides in Eureka, another record high over the past three decades. Eureka has averaged just two homicides per year during that stretch, reaching a high of five three times — in 1991, 1992 and 2001, according to the FBI's uniform crime reporting statistics.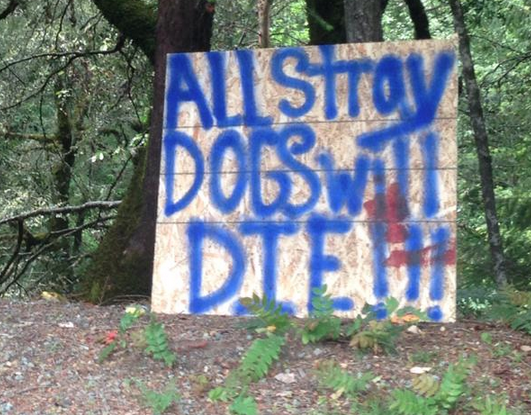 While these homicides deservedly receive special attention, the 16 deaths were woven into a tapestry of disturbing violence. There were numerous attempted homicides, an unexplained spray of bullets in Arcata, the suicidal conclusion of a months-long manhunt and bloody dog carcasses hung from a tree as a threat, to name just a few of the year's heinous crimes.
While violent and property crime rates have been steadily falling for decades at the state and national levels, they've been rising locally in recent years, particularly in Eureka. For most of us, these events and the disturbing trend they comprise contradict our sense of the generous and loving community we know personally. And so, like the dazed mourners squinting in the New Year's sun, we can't help but indulge the intrinsic human impulse to search for patterns in the chaos, hoping for relief from our cognitive dissonance.
What do these 16 homicides mean? What were their causes, and where can we find potential remedies? The Outpost spoke with a number of people involved in the local criminal justice system and heard a variety of perspectives, from opinions on contributing factors to suggestions for action.
First, in the interest of laying all the evidence on the table, let's take a look back at those 16 homicides, in chronological order.
*Note: Coroners define homicide as any death that occurs by "a volitional act committed by another person to cause fear, harm, or death." So the inclusion on this list of two homicides by law enforcement officers does not imply criminality on their part.
Can we conclude anything from these bare facts? Thirteen of the 16 died of gunshot wounds. Most victims were personally acquainted with their killer. Only one was a woman. Likewise, just one of the killers was female. The average age of the deceased was just under 35. Six had yet to reach age 30. And two victims, killed on subsequent days last week, were minors, with the youngest just 14 years old.
Humboldt County Sheriff Mike Downey has access to more details in most of these cases, and he sees a recurring theme. "Most of the homicides we're encountering are related to marijuana and other drugs," he said. Marijuana is obviously the county's big-ticket commodity, luring ruthless profiteers á la the gold rush, Downey said. "And people do what they feel they need to do to protect their so-called business and their income" — up to and including murder, the sheriff added.
Chronic understaffing has only compounded the problems, Downey said. His office is currently short 13 deputy sheriffs who would be serving in the field if their positions weren't frozen or unfunded. A sergeant's position is also frozen along with 16 correctional officers, to say nothing of ancillary staff. The sheriff's office has an allocation of 270 positions, per the county budget, and currently only about 220 of those are filled.
This problem was mentioned specifically by others in the sheriff's office during the year. For example, Lt. Wayne Hanson voiced his frustration after the third of four homicides near so-called Murder Mountain in Southern Humboldt in a 24-month stretch. "We are not happy about our staffing levels," Hanson said back in July. "It puts our officers, their morale, [and] citizens' safety at risk."
"What's happened," Downey explained, "is my budget over the last four years has stayed pretty constant at $28 million to $29.5 million, but operating costs have gone through the roof." Those costs include skyrocketing retirement expenses, union contracts, insurance and fuel, among other things, Downey said. But he's optimistic about the coming year thanks to the passage of Measure Z.
With the passage of the countywide tax measure Downey said, "I'm in the unique and happy position to remake the agency — provide enhanced services, put more people on street [and] have programs to deal with issues." In 2015 he hopes to fill six to eight of the vacant deputy sheriff positions, which should strengthen the drug task force and add improve community services. This, in turn, should alleviate stress on patrol deputies, allowing them to do more proactive, rather than reactive, enforcement, Downey said.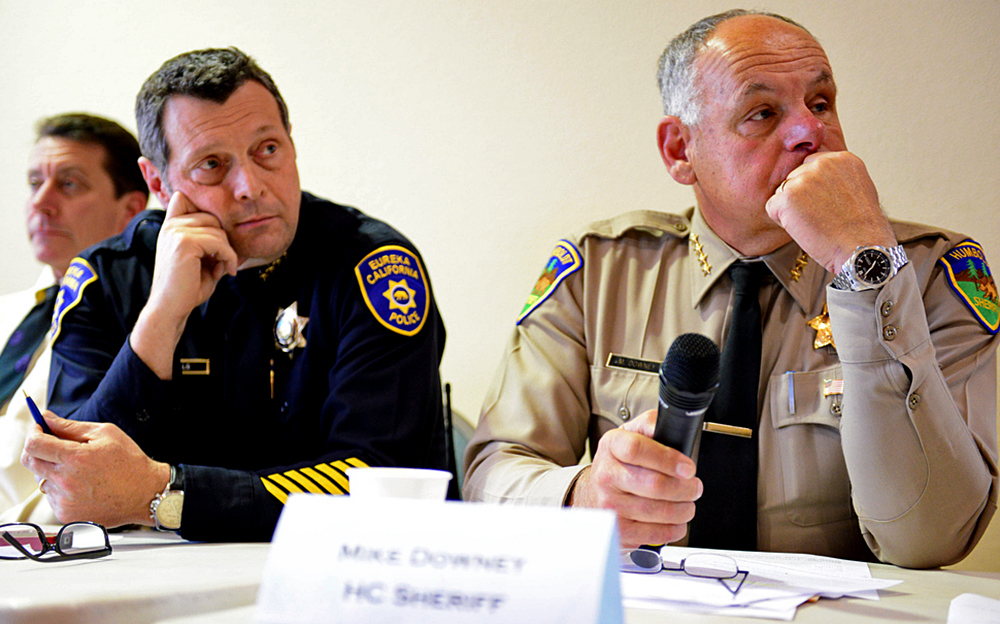 Mills and Downey at a February public meeting. File photo by Mark McKenna.
Downey's analysis is similar to that of Eureka Police Chief Andy Mills, who had been on the job less than two months when he found himself giving a press conference covered around the world. Mills has brought an intellectual approach to the position, studying not only the techniques used in other law enforcement agencies but also the social underpinnings of criminal behavior.
In a phone interview last week Mills casually cited a recent Yale study that examined the relationship between social networks (both the human and Facebook varieties) and the odds of becoming a murder victim. The sociologists behind the study discovered that such commonly blamed risk factors as race, gang membership and physical proximity to the murderer are less important than one's social network. "In other words," NPR noted, "it's all about whom you know."
"That was a very interesting revelation," Mills said. "What's exasperating here in Humboldt County is there's this very violent subculture that seems to center around the illegal drug culture," he added. Like Downey, Mills doesn't limit that diagnosis to marijuana, nor does he believe that all marijuana growers are prone to violence. But the various drug-related subcultures — be they the mentally ill self-medicating with illegal substances, the hard-core addicts or those seeking to turn a profit — have proved to be more combustible.
Unlike others in law enforcement, Mills said he doesn't necessarily see a connection between California's public safety realignment or the recently passed Prop. 47 (both of which have resulted in more low-level criminals getting released onto the streets) and the rise in violent crime. Such issues are convoluted and very difficult to trace, Mills said, but he doesn't believe that any of our local homicides were directly related to those new laws.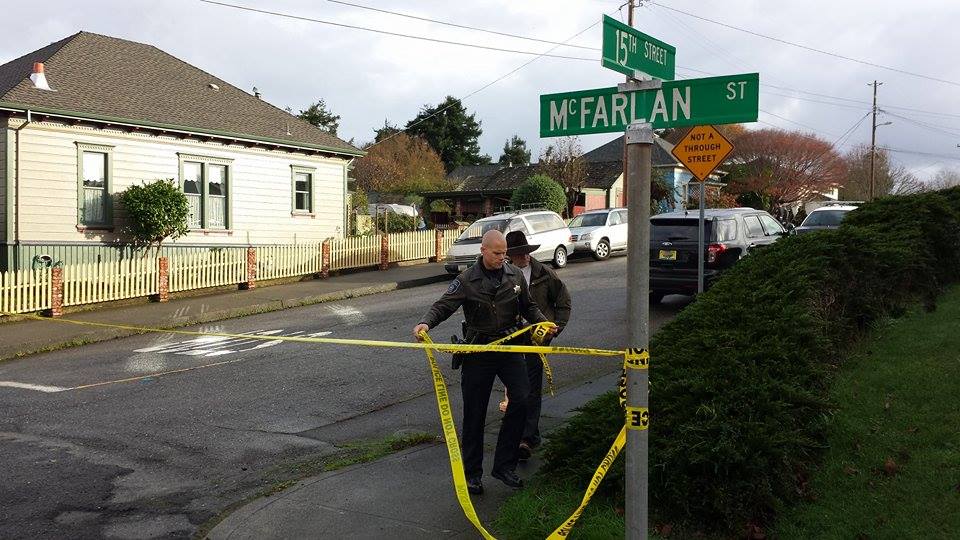 A Eureka police officer tapes off the scene where 14-year-old Jesus Garcia-Romero's body was found.
Another possible explanation for this year's high homicide number is one that could be either comforting or troubling, depending on your disposition: statistical variation. Random chance, in other words. Maggie Fleming, Humboldt County's district attorney-elect, advanced this hypothesis in an emailed response to the Outpost's inquiry.
"Annual variation in rare events such as homicides can be expected even in the absence of changes in underlying causes," Fleming said. "Humboldt County has experienced previous spikes in the number of homicides."
That said, Fleming acknowledged that violence is often linked with substance abuse and mental health issues. (Preliminary evidence suggests that Bullock, the suspect in the Freed murder, suffered from both.) Fleming said California needs to revise its approach toward such people. "We need to enhance both our ability to identify people in need of help and then provide it," she said.
That challenge can be more difficult than it sounds according to those who work with such people. Bill Damiano, Humboldt County's chief probation officer, works with people who have been sucked up into the penal system and spat back out into a society that doesn't welcome them. Many have substance abuse problems and many have been deeply damaged by their experiences.
"We're working with a lot of people with deep histories," Damiano said. While he admits that his agency doesn't investigate homicides he said, "I have my own personal, professional views of how we damage people in the system. We don't help people by ostracizing and marginalizing them."
By way of explanation Damiano said, "I'm a corrections guy, not a strict law-enforcement guy." He sees California's recidivism rate and watches people come back through the system again and again. Socially and economically disenfranchising people "makes them more likely to commit homicides," he said.
Like the others contacted for this story, Damiano also mentioned Humboldt County's marijuana trade, saying, "the activities in the wilds, in the dark [and] in secret makes that kind of stuff likely to happen."
Maybe some relief will come when recreational marijuana is legalized. Other contributing factors to violent crime rates, such as rising income inequality, seem equally out of our local hands. But perhaps there are lessons to be gleaned from sociological elements at play — about the impacts of social networks and the intimacy of murder. Perhaps there are steps we can take in the coming New Year to make things better. Perhaps there are patterns in the chaos after all, signposts that point to blame, causation, a remedy.