UPDATE, 9:14 a.m.: LoCO 2014 by the numbers…
2,295 posts
232,201 (non-deleted) comments
342: Number of times Puff said "puff on!"
377 Toodlesings
10,086 BOOKings
8,669 CHP incidents
8,387 Lowdown events
11,695 Elsewhere items
1,150 Elsewhere items hand-entered, mostly by Gina Rimson
###
Happy New Year's Eve, Outpost faithful! Thank you for an eventful 2014.
Let's take a look back. It is time, once again, to rank everything that happened in Humboldt County by "the only metric that matters"® — traffic to the Lost Coast Outpost website.
Here are your Top 27 Posts of 2014. In some cases they're grouped by subject.
1. State Park Ranger Found Unconscious in Patrol Car With Beer Between His Legs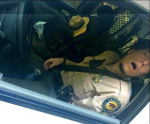 To suggest that this LoCO exclusive "grabbed" the public's attention is understating the case just a mite. Better to say the story — and the arresting image that went with it — took the public by the throat and throttled it into a state of delirium. Social media — Facebook and Reddit, largely — very quickly took to the shocking and kind of sad case of the armed, on-duty park ranger passed out with a Keystone Light between his legs, and suddenly news outlets around the world were eager to acquire photo rights.
The Outpost's Kym Kemp had a highly researched follow-up story that looked at some of the more serious issues surrounding the case. Mainly: Why was the ranger not booked into jail, despite being arrested by the CHP after he fled from them in his patrol vehicle, under the influence? But it would be asking too much to expect such a follow-up to pack the crazy, disorienting, WTF-inspiring punch of the original.
2. Murder in the St. Bernard's Rectory This Morning; Victim is Reportedly Father Eric Freed &
7. Redway Resident Gary Lee Bullock Wanted for the Murder of Eric Freed &
14. Priest Murder Suspect Bullock Apprehended in SoHum
The murder of Father Eric Freed is at the front of everyone's mind right now. The one-year anniversary of that horrible day is tomorrow, and the trial of his accused killer is set to begin next month.
But if it's at the front of our minds now, it's at least been at the back of our minds since the day it happened. That day and a half between the event itself and suspect Gary Lee Bullock's capture was strange and surreal, as national media swarmed into town for new EPD Chief Andy Mills press conference, where Bullock's name was announced. After, as the terrible details of the killing and its aftermath trickled out, Humboldt County citizens were driven to grief, or to rage, or to action.
There were some consequences. The Sheriff's Office altered its policy on releasing inmates into the streets of Eureka in the middle of the night, for example. But not much else notable has changed, and rare is the Humboldt County resident who would assert flat-out that an act of violence so cruel and senseless could not happen again.
3. Multiple Injury Accident Near Hydesville &
10. Coroners Office Releases Names of Dead in Yesterday's Highway 36 Accident
Humboldt County's ghastly traffic statistics deserve the same kind of retrospective that our Ryan Burns gave to homicides last week. An absolutely startling number of our people died on the roads this year.
The worst of these crashes took place in August, when four people — including a 13-year-old girl and her mother — were killed when a pickup carrying eight people slammed into a tree on Highway 36. The party was returning from a swimming trip to Ruth Lake. In its press release, the CHP called it the deadliest accident in Humboldt County in 12 years.
4. Local Guy in Swiffer Commercial
The Internet at large loves this story and keeps linking to it! America outside of Humboldt, we gather, is freaked out by a commercial that features
An interracial couple.
An amputee.
… and the fact that, as Jezebel puts it, "[t]he husband is actually cleaning right along with his wife."
Whatever! You're weird, America! We're just proud of the commercial's star — South Fork High alum Zack Rukavina!
5. CHP Officer Injured by Suspect Near Willow Creek, Shots Fired &
23. CHP: Person Shot and Killed Yesterday Confirmed to be 17-Year-Old Hoopa Boy; Officer Suffered Major Injuries in Machete Attack
The second time a law enforcement officer shot and killed a suspect this year. It happened in the dark of night, way out Highway 299, after a 17-year-old Hoopa kid crashed into a telephone pole. He attacked the responding CHP officer with a machete. The Outpost pieced together part of the story that morning from dramatic scanner recordings and posted the audio about a half an hour before the CHP officially released information.
The comment threads on a couple of stories related to this incident had to be closed, due to the callous and inveterate racism of quite a few commenters — those to whom the tragedy of a 17-year-old boy losing his life, and an innocent officer gravely injured, carry much less emotional weight than their trigger word: "Hoopa." This seemed largely inspired by a widespread and disappointing American impulse this year — the pressure to "take sides" between law enforcement and people of color, as if those two loose, ad hoc groupings of human beings were forever diametrically opposed.
6. Human Remains Confirmed to Be Those of Triple Homicide Suspect Shane Miller
8. Sheriff's Office Responding to Suspected Homicide in Fieldbrook &
15. Victims Named in Fieldbrook Double Homicide, Suspect Arrested on 101 Near Loleta
Victims: Harley Hammers and Angel Tully. Suspect: Jason Arreaga.
9. EPD: Suspect in Last Night's Double Homicide in Custody
Victims: Rick Storre and Lance Henry. Suspect: Vinnie Sanchez.
11. 'Humboldt Is a Wonderful Place,' Says Mom of Boy With Down Syndrome Whose iPad Was Stolen
This story, if you don't recall, was the LoCO commentariat's proudest moment.

12. Fire Crews Save Marijuana Harvest
Another post that was very, very popular outside of Humboldt. The Internet loves to marvel at a world turned upside-down.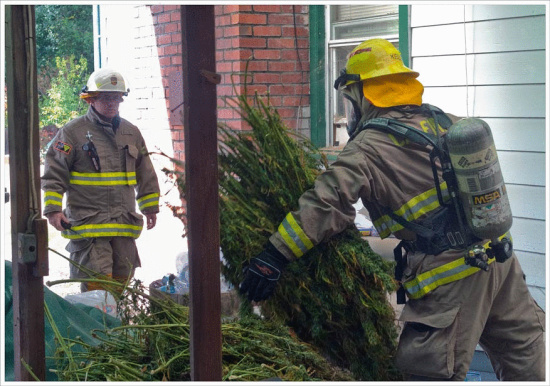 13. Survivorman Not Sure He'll Survive Pot Farms, Meth Labs and Rain
Ha ha! You suck, Survivorman!

16. Buffet Restaurants in Arcata and Fortuna Fined More than $1M For Wage Theft Violations
For all the hand-wringing about the drought, this little fire post was the most juice LoCO got out of it in 2014. Therefore the drought is not actually that big of a deal.

18. The Death of Tommy McClain: What Happened in Wednesday's Officer-Involved Shooting &
20. Eureka Police Officer Involved in Fatal Shooting
We are not sure why no post relating to an EPD officer's fatal shooting of a citizen — a citizen later determined to be armed only with a BB gun — rated higher than #18. But facts are facts.
19. 10,276 Marijuana Plants Eradicated by Sheriff's Department and CAMP North of Blocksburg
The return of CAMP! They touch down in a sea of green out Blocksburg way and send back pictures.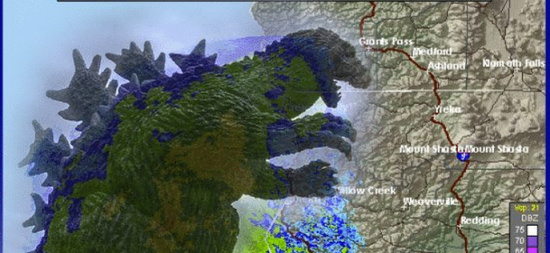 22. Photos of Yesterday's Drug Lab Explosion—Thousands of Butane Canisters Found at Drug Lab in Rancho Sequoia
As with #1 and #12, the eye-popping photos took things to the next level, here, traffic-wise.
24. Apparent Homicide in Eureka This Morning
Victim: Casey Campbell, at 15th and William. No suspect yet named.

25. Big Law Enforcement Presence in Honeydew, Multiple Locations Raided
The second-highest rated weed bust of the year featured a helicopter and big light dep setups. Lots of pictures!
26. Homicide at Trinidad RV Park; Sheriff's Office Investigating
Victim: Jesse Ruiz. Suspect Larry Morrow was taken into custody that day.

27. Yes, Brad Pitt was in Humboldt (PHOTO)
Humboldt much prefers its homegrown celebrities (see #1, above).