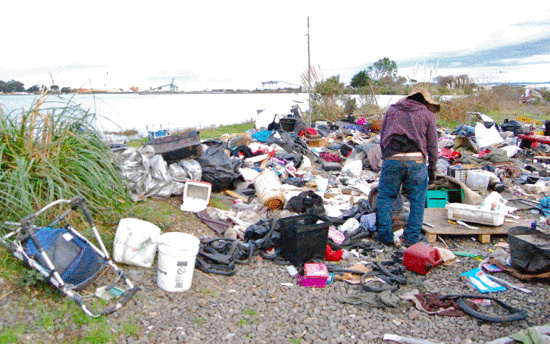 EPD told LoCO yesterday they would clean up the waterfront area adjacent to the foot of Del Norte Street "til the dumpsters are full." It would seem they need more dumpsters.
LoCO returned to the area this morning to find a handful of tents had returned to the area crews had worked hours to clean up only yesterday (granted there was far less trash around). That is to say nothing of the area farther down the path which still features 30+ tents and associated possessions. A few campers just moved their possessions away from the area being cleaned. A few residents we talked to thought yesterday's operation — which included scooping up items with a backhoe — was harsh and said they have no immediate plans to leave.
"There's no where else for me to go," said a man we talked to named Tim.
Your Lost Coast Outpost called into KHUM radio and discussed today's scene with DJs Mike Dronkers and Cliff Berkowitz. Listen below:
PREVIOUSLY: 'Til the Dumpsters are Full': Today's EPD Purge of the Devil's Playground Homeless Encampment