UPDATE, 1:51 p.m.: The Mad River Union's Kevin Hoover weighs in with a more extensive report here that indicates there is high possibility Ferrer will serve even less time. -AG
# # #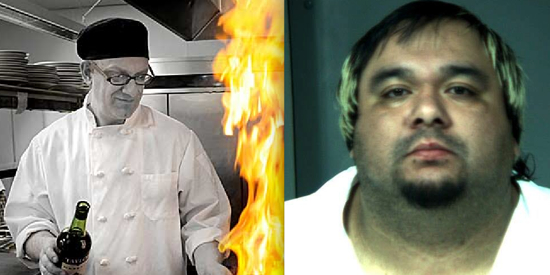 Original Post: Juan Ferrer, the man accused with the stabbing death of Abruzzi chef Doug Anderson-Jordet, was in court yesterday and plead no contest to a charge of involuntary manslaughter. (LoCO readers will recall the Nov. 25 late night confrontation in Arcata which resulted in the death of Anderson-Jordet from a single stab wound to the heart.)
Both News Channel 3 and the Times-Standard report that Ferrer faces four years in prison and three years probation. The other Arcata residents who were allegedly involved in the incident, Nicholas Stoiber and Sophie Buttercup Rocheleau, also pleaded no contest to less severe charges.
"In hearing the evidence, it was three strangers that got into a fight that went horribly wrong," deputy DA Elan Firpo is quoted as saying in Will Houston's T-S report. "(Ferrer) didn't seek to kill Mr. Jordet."
The three will be formally sentenced on April 3. For more, head over to the T-S.
PREVIOUSLY: