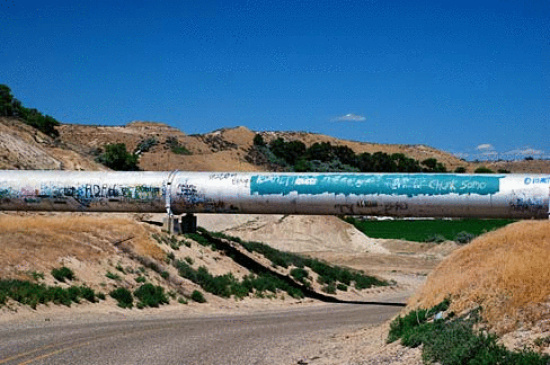 Photo of a water pipeline in Oregon. At this time, there are no images available for the proposed Humboldt County pipeline. (Photo from Malheur County, Oregon.)
What will happen to the millions of gallons of Mad River water that used to be purchased daily by Eureka's two closed pulp mills? Current state law says that water must be assigned to some user. As Kelly Lincoln of KMUD explains in the audio below, "If the [Humboldt Bay Municipal Water District] does not find a user for the water, they will lose the water rights. Then someone else will be able to take the water and will not have to provide the District any compensation for it."
The Humboldt Bay Municipal Water District [HBMWD] and its Community Advisory Committee have decided to first allocate this water to the environment and local industry, as well as any other North Coast communities in need, Lincoln says. However, according to HBMWD's calculations, "That will leave up to 50 percent of their water right in need of a user," Lincoln explains. Thus, Humboldt Bay Municipal Water District is looking for ways to export the unused portion of this water out of Humboldt County.
"The next piece of California's extravagantly engineered water plumbing may be built from the Redwood Coast in the next couple of decades," Lincoln says in the following radio piece. The plan is just beginning to take shape, but on Tuesday the 25th, Lincoln says, "the Board examined a map developed by their lead engineer showing about seven possible pipeline routes." The map, she said, generated some controversy. It was the "most provocative piece."
In the following story, Lincoln describes several possible routes for the pipeline in general terms and the possible outcomes of the two major route directions. One of the possible directions is south through drought-stricken Southern Humboldt where some Eel River water has been diverted to customers in Sonoma County. The idea might be to exchange some of the Eel's currently diverted water for some of the Mad River's water — thus restoring higher flows to the currently low Eel. "But a route south is the longest pipeline to build," Lincoln says, "meaning it is the most expensive, and with the fewest customers to help pay for it."
The other alternative is to go east to the Central Valley. This, she says, "would probably be half as long and … [there] are literally millions of people to buy the water." But, she says, "the board imagines, however, that almost no one in the entire North Coast will like the idea."
Lincoln explains in the piece below how moving the plan through the environmental and approval processes will take many years and will be difficult to achieve by the deadline before the District loses its current right to a significant portion of the Mad River.
More about the Humboldt Bay Municipal Water District's plans can be found by going to their page here. Input can be made here.
Photo of a large water pipeline being installed in Libya.