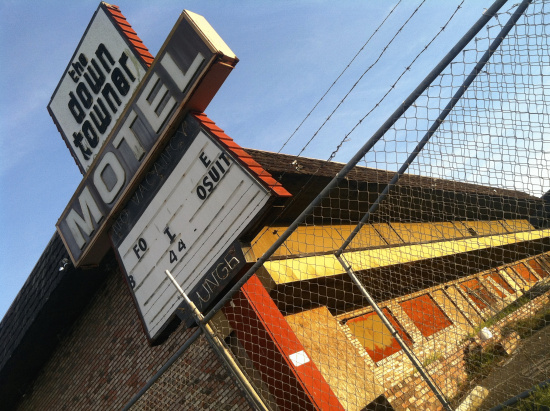 Images of the Downtowner in this post were taken last week.
It's been more than two weeks since Humboldt County Supervisor Virginia Bass appointed Eureka contractor/engineer Kevin McKenny to the county Planning Commission, and several people who live near McKenny's derelict Downtowner Motel are still shaking their heads over the move.
Bass has been organizing a neighborhood advisory group, which plans to meet with McKenny next week to share ideas and voice concerns about the property, and to let McKenny communicate his plans with them directly. But some who live in the area say McKenny's failure to clean up the property over the past nine years shows disrespect for the kind of planning and enforcement matters he'll be addressing as a planning commissioner.
The ramshackle, plywood-bandaged Downtowner has long been a thorn in the side of its neighbors, perhaps none more so than Jean Gladstone. She's president of Keep Eureka Beautiful, an all-volunteer group that plants street trees and encourages property maintenance. Its website argues, "Communities that are kept clean and attractive enjoy more economic benefits and experience less crime."
Just two blocks from Gladstone's home sits the vacant Downtowner with its weeds and garbage, its piles of dirt and rubble, an entire city block wrapped in cyclone fencing and seemingly forgotten. The shuttered motel stands as a constant affront to her group's beautification efforts.
"We've asked him [McKenny] many times to do something with that property, clean it up or something," Gladstone said in a recent phone conversation.
Four years ago she filed a complaint with the city over a crumbling sidewalk. Other Eureka residents have filed complaints about overgrown weeds and broken windows. Little things get fixed following such complaints, Gladstone said, but the larger issues persist. The motel has been closed since the 1990s, and it continues to deteriorate.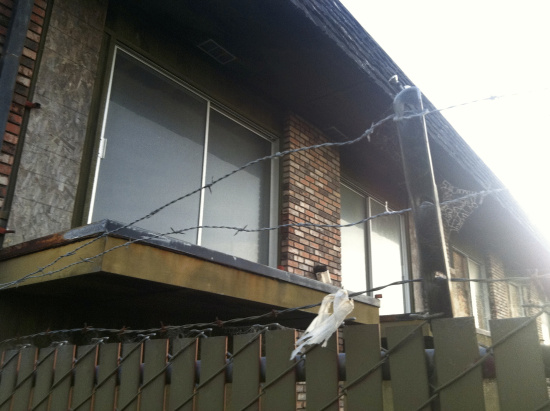 Gladstone remembers one day walking past the place and seeing a man — "this young hipster kind of kid," she said — clambering up and over they cyclone fence. "It was obvious that's where he was living," she said. As she got closer they made eye contact. "He looked at me like he wanted to slit my throat and said, 'Don't you say a word about this to anybody,'" Gladstone recalled.
She said that there's been no evidence recently of people still living there. But she still has a hard time believing that McKenny now sits on the Planning Commission.
"It would be funny if it wasn't so sad," Gladstone said. She feels that McKenny has let down his property's neighbors. "He's not taking us into account at all," she said. "And if you can't take a neighborhood into account, how can you take the whole county into account?"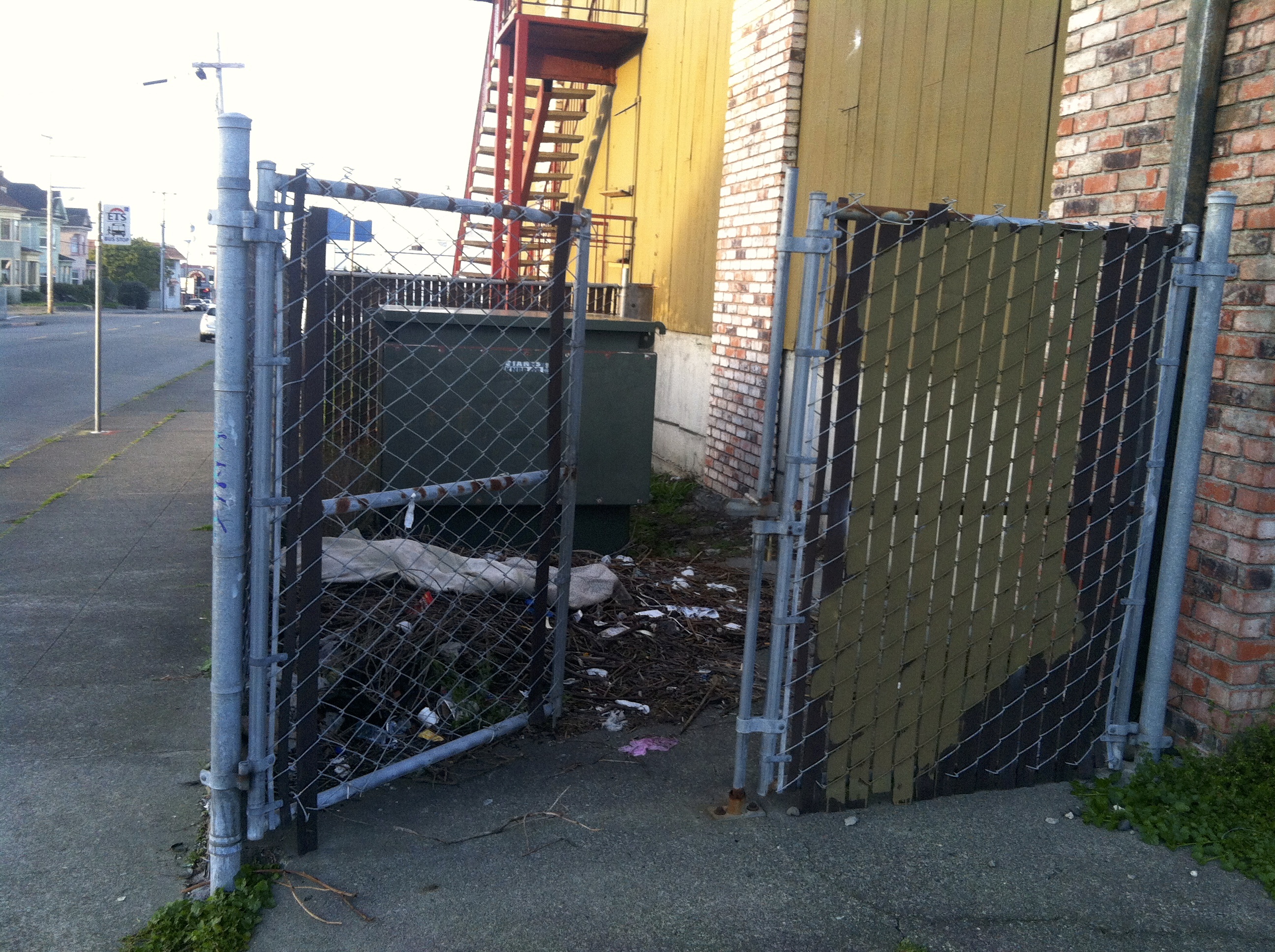 Since 2005, just before McKenny took ownership of the property, the Downtowner has been listed on the City's tally of vacant and/or boarded buildings and thus has been subject to a quarterly monitoring fee of $200. City code explains the reasoning for the list and fee: "Vacant buildings often attract transients, homeless people and criminals, including drug abusers." They also accumulate weeds and debris and "discourage economic development and retard appreciation of property values," the code says.
That last point — property value depreciation — has been a very real issue for Eureka artist Linda Mitchell and her husband, Bill Cody. The motel was still open when they moved in across the street (it was very cool, she said, with cherry trees out front). In addition to their own house, the couple owns a rental property on the same street. Mitchell says they've lost tenants and potential tenants because of the Downtowner, and they can't charge the rent they should be charging with the run-down motel across the street.
"We have [potential] tenants come and say, 'It's just such a bad neighborhood,' but [the Downtowner] is the only thing that's bad," Mitchell said. Everyone else around keeps their property maintained, but there's no avoiding the "blight" of the Downtowner, she added. "We can't leave our house without seeing it. It's just there."
McKenny's supporters, including Bass, point to his history of positive contributions to the community, including numerous attractive commercial projects and 26 years of service as an elected member of the Humboldt Community Services District. Larry Oetker, Arcata's Community Development Department director, said the city is very pleased that McKenny built a new Do It Best building center in town.
But Mitchell said nine years is just too long to wait for something to happen. And while Bass has said she'll ask McKenny to step down if there's no progress within six months, Mitchell remains skeptical. "I don't believe that he's actually going to do anything with it, because we've had so many broken promises over the years," she said.
Like Gladstone, Mitchell thinks McKenny's handling of this property should have disqualified him from the Planning Commission. "It's just that he has shown such blatant disregard for city codes and a whole neighborhood of downtown," she said.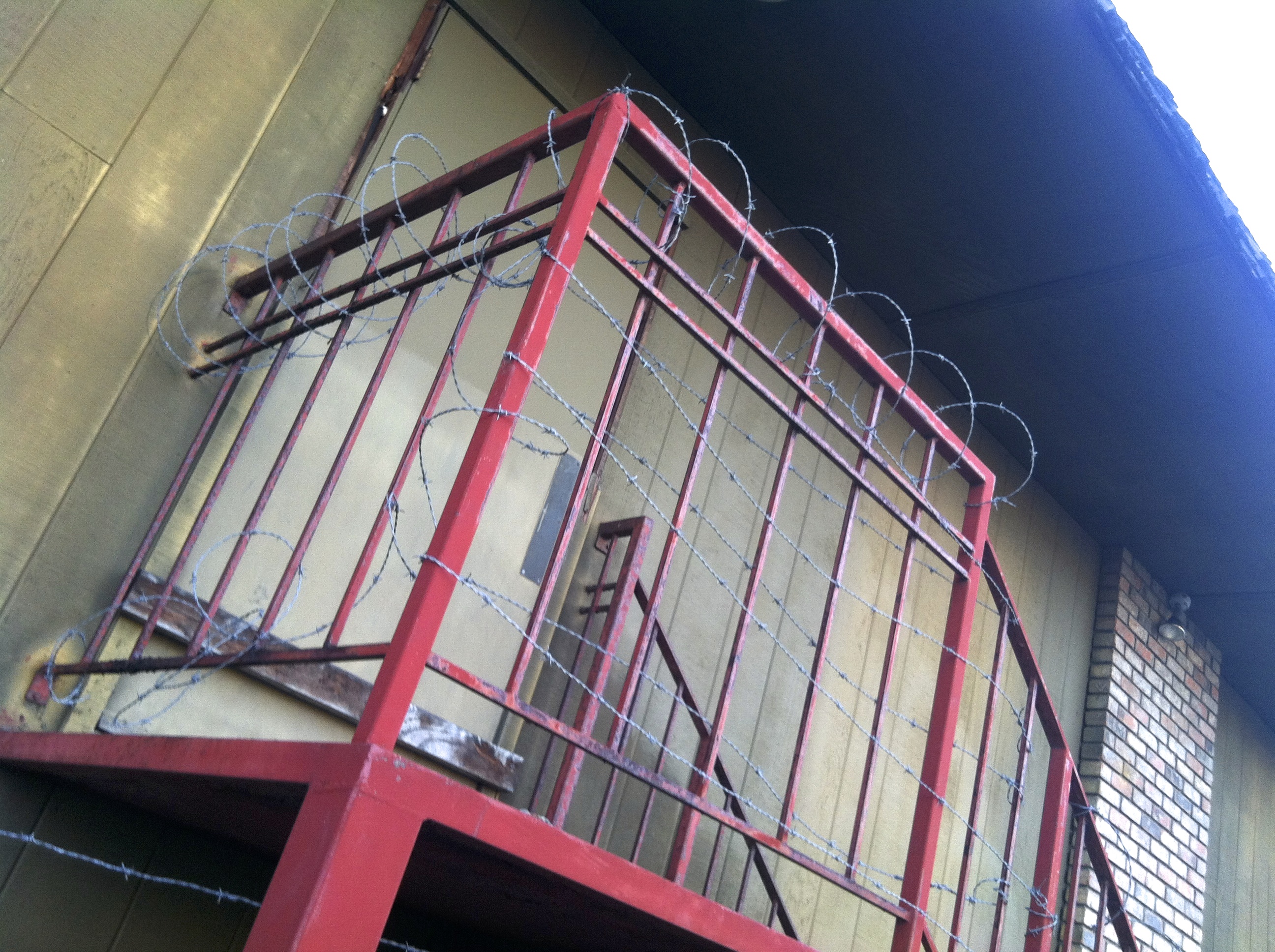 City codes say that the quarterly monitoring fee will be waived if "the owner has applied for and is diligently pursuing a building permit or other permits necessary to occupy the building." The Downtowner's property file at Eureka's building department is stuffed with certified letters sent to McKenny's post office box over the years and returned unclaimed.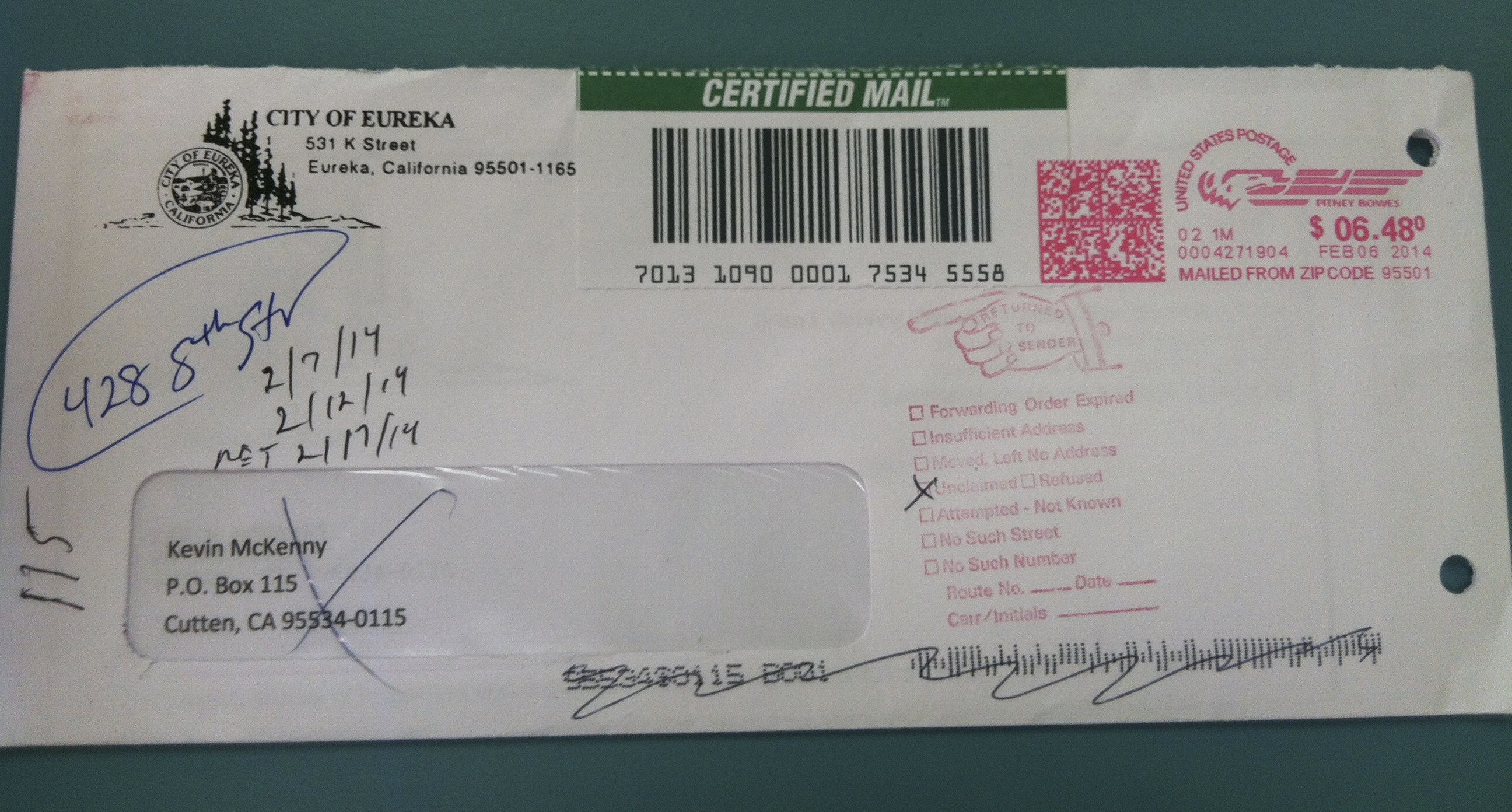 But the city's chief building official, Brian Gerving, said McKenny has paid his fees on time. The city sends two copies of each letter — one via regular mail and one through certified mail, so McKenny could simply be ignoring the duplicates.
Regardless, Eureka resident and business owner Scott Brown, who often walks past the Downtowner on his way to and from work, says that McKenny's payment of those fees over the last nine years amounts to an admission that he hasn't been "diligently pursuing a building permit" or taking any other measures to address the blighted property.
Another thing Brown points out: City code states that the following is officially a public nuisance:
"The keeping, storage, depositing or accumulation of dirt , sand, gravel, concrete or other similar materials that constitutes visual blight or reduces the aesthetic appearance of the neighborhood or is offensive to the senses or is detrimental to nearby property or property values."
And yet piles have been in the Downtowner's yard for years:
Asked about these piles, Gerving said he hadn't been out to the site recently and would have to look into it.
Regarding McKenny's recent appointment, Brown said, "To me this looks like the fox guarding the hen house. Mr. McKenny has been in violation of the City of Eureka's planning and building code for nearly a decade. That alone should disqualify him from serving on the county Planning Commission."
McKenny was quoted in the Times-Standard apologizing to neighbors and saying they have "every right to be upset." And he has reportedly made progress recently on new plans for the property, saying he'd like to turn it into a "bungalow, lodge-style" hotel operated as a franchise of a larger company.
Messages left for McKenny have not been returned.
At least one neighbor is willing to give him one more shot at redemption. When Sylvia Scott heard about McKenny's appointment to the Planning Commission, she, like several other neighbors, called Bass to express her concerns.
"I believe that if you're going to be on any kind of board like this you should be aware of our city and environment," Scott said in a phone conversation this morning. "This [the motel] brings down the whole neighborhood, and fixing it up would bring up the neighborhood."
Bass has placed Scott in charge of the neighborhood advisory group, which plans to meet with McKenny sometime next week. And Scott is hopeful that they'll be able to move forward. Though she has yet to meet McKenny personally, Scott said that, based on what she's read, he seems to have a lot of qualifications for serving on the commission.
"But I think if you're going to be on board like this you need to be held accountable, more accountable than just the general public," Scott said. "I think he's perfectly qualified. And he'll be even more qualified once he cleans up the Downtowner."