Here's the next post in our new series, Be On the Lookout. Remember we highlight stolen items and ask you, the readers, to help your neighbors by passing on any helpful information to the appropriate law enforcement agency.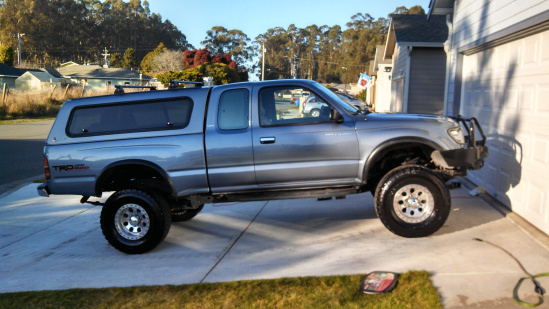 In what Deputy Greg Bickle of the Humboldt County Sheriff's Office describes as "one of the more brazen burglaries I've seen," this 1998 Toyota Tacoma (license plate 5V44678) was taken along with multiple valuable items from the home where it was parked.
Deputy Bickle said this was a
…daytime burglary in the 1700 block of Letz Lane in McKinleyville. The owner of the vehicle went to the residence and then carpooled with the owners of the residence… . A forced entry was made into multiple structures. If the vehicle is located firearms could be involved…. [The thief or thieves] used the stolen vehicle to load up the stolen items.
Bickle said that firefighting equipment was tossed on the ground not far from where the vehicle was taken. However, a Cal Fire shirt and badge were reported missing.
The owner of the vehicle says,
…a gun safe with multiple guns was taken, jewelry…other valuables were also taken among many other items in the house. The house was ransacked.
Bickle said that there had a been a report of this vehicle being seen headed southbound in the Safety Corridor about 3:20 p.m. of the same day. Be on the lookout and report any information to the Humboldt County Sheriff's Office at 445 7251.
UPDATE 1:18 p.m.:
Humboldt CO. Sheriff's Press Release:
On 02-04-2014 at about 4:15 pm a Humboldt County Sheriff Deputy responded to a home located in the 1700 block of Letz Lane, McKinleyville, regarding a burglary that was just discovered by the resident/ victim. The victim told the Deputy that they left their home today at about 8:30 am and when they returned at about 4:00 pm they discovered that their home had been entered and numerous items had been stolen.

The victim said they were missing numerous items from inside of their house. The victim said that the suspect(s) stole their large gun safe from inside of their residence. When the gun safe was originally moved into the residence it took 4 people to bring it into the house. Stored inside of the gun safe were 8 rifles and shotguns along with about 15 handguns and a large amount of US currency.

The suspect(s) stole a light metallic blue, 1998, Toyota, Tacoma pickup truck with a matching canopy, California license number 5V44678 that was parked in the driveway. The pickup truck has a 4 inch lift and there is a "Kneeland Helitack" and "Fear no fish" stickers on the canopy window.

There is currently no suspect(s) associated with this case.

Anyone with information for the Sheriff's Office regarding this case or related criminal activity is encouraged to call the Sheriff's Office at 707-445-7251 or the Sheriff's Office Crime Tip line at 707-268-2539
Previous Posts in the BOLO Series:
––––-
If you have a stolen item that you would like the LoCO community to help you find, please send photos, the police report number, the agency to which you reported the item missing, and any appropriate additional information to mskymkemp@gmail.com