Here's the next post in our new series, Be On the Lookout. Remember we highlight stolen items and ask you, the readers, to help your neighbors by passing on any helpful information to the appropriate law enforcement agency.
In September of 2012, three local women joggers were struck by a hit and run driver. One tragically died. Two were badly injured and took a long time to recover. Yesterday, bikes belonging to the family of one of them, Terri Vroman Little, were stolen.
Can we please get these bikes back, Humboldt?
Little's husband, she says, "had both of his road bikes stolen from behind our house, under the deck. We live a little out of the way so it's not a typical front porch theft situation."
Here's her description of the bikes and the more than monetary value that was taken from their family:
One bike was a near-vintage grey Univega which was filled with sentimental value beyond explanation: cross country solo bike trip, many commutes to HSU for undergrad and MA degrees, then the first few bike tours with our daughter starting when she was just 5, etc. There were certainly good components on it, a back rack and the nice leather seat but it's not worth all that much money. It would be great to get it back but we have no good, current photos of it.

The purple Winter Bicycles bike [in the photos below] had been gaining sentimental value in the past few years - I dropped him at the train station in Redding so he could go get it and ride it back to Eureka from Eugene, for starters. Equally important, this bike is what Bryan bought rather than a used gas efficient car. He had been commuting on it daily from home to teach in Arcata rather than driving and burning gas (well, until I was run down by the hit and run driver, at that point Bryan parked the bike for a spell). It was custom built to Bryan's measurements by a skilled, small shop craftsman and is really a one of a kind. Anyone who knows much about bikes will see the components, fenders, racks, the saddle, etc. are not typical of a knock around bike.
This last bike is unique and beautiful. It shouldn't be hard to spot.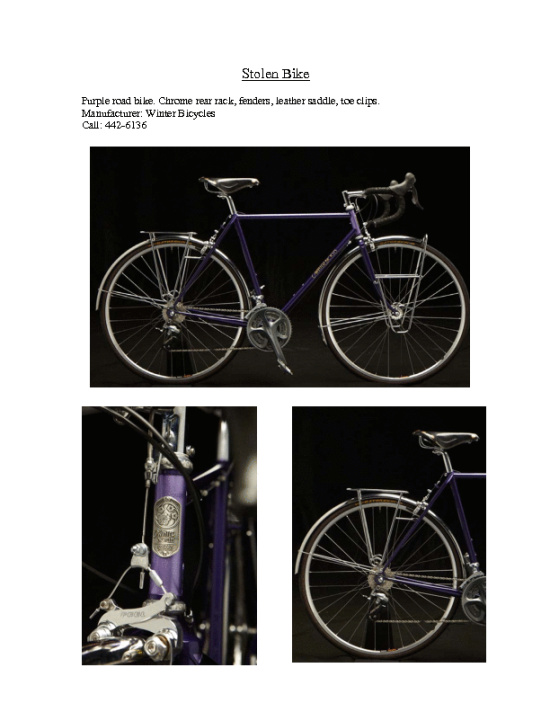 If you have a stolen item that you would like the LoCO community to help you find, please send photos, the police report number, the agency to which you reported the item missing, and any appropriate additional information to kym@lostcoastoutpost.com
Previous Posts in the BOLO Series: