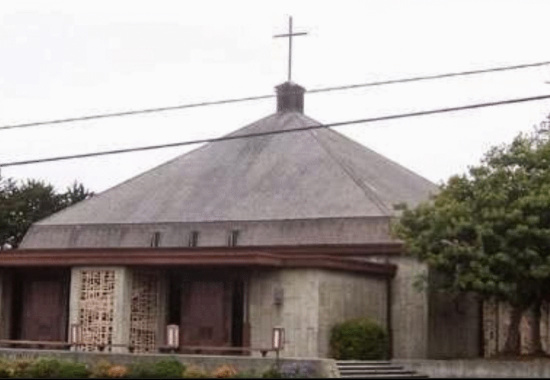 Sacred Heart Church on Myrtle Ave. in Eureka. (Photo from Google Maps.)
According to Lt. Steve Knight of the Humboldt County Sheriff's Department, the caretaker of the Sacred Heart Catholic Church on Myrtle was confronted by an intruder inside the building today around 2 P.M. The woman stopped by to check on the grounds and spotted a bicycle inside the building.
She opened the door and went into the dark interior. A man, approximately 6 foot tall wearing dark clothing including a sweatshirt and a beanie or a hat, began to move towards her. She retreated behind another door and called 911. She was not injured or confronted further. The man fled left the scene and has not been found.
Lt. Knight said that there was nothing to indicate a connection with the murder violent death of Fr. Eric Freed but neither is his office ruling out the possibility. Deputies have been asked to keep an eye on all churches at this time—"especially," Knight said, the "Catholic churches."
A mass is scheduled to be held at 5:30 P.M. at this church. This is a scheduled mass but members of St. Bernard's congregation are invited to join the service in order to support to Catholic community and provide a place to gather.
Previously: