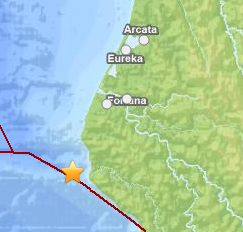 No, that was not your cat jumping on your bed. As if today wasn't already earthshaking enough.
The USGS confirms that we just had — at 10:23 p.m., that is — a an earthquake measuring 4.0 on the Richter scale and centered in the Pacific 22 miles SSW of Ferndale.
If I wasn't sitting perfectly still, I'd likely have missed it.
PREVIOUS 2013 QUAKES LoCO DEEMED BIG ENOUGH TO POST ABOUT: