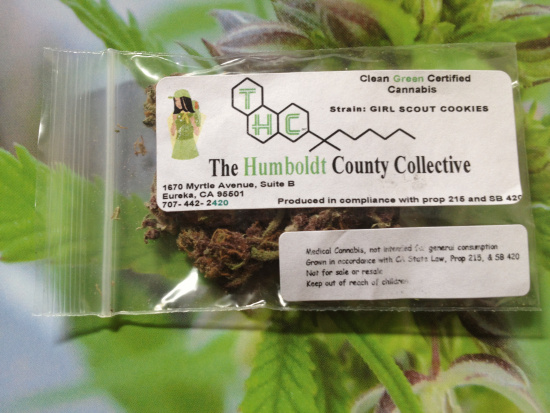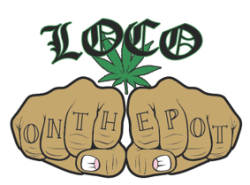 "The only real drug problem is scoring real good drugs."
That's from the NOFX "Herojuana" song on Pump Up The Valuum.
It is 70 miles from where I dwell to the closest Humboldt County medical marijuana shop with cannabis flowers. On Friday, I went there. I bought some weed at The Humboldt County Collective (THC) in Myrtletown, on the outskirts of Eureka.
THC is nondescript and unpretentious. The owner, JoAnn Hammans, is sweet like blackberry pie from Toni's #1. Shayna Dobbins, the budtender, was helpful when I shopped. The transaction was easy. For $21.50, I purchased two grams of "B-buds," one gram of Girl Scout Cookies, plus one gram of Blue Hindu. For my joints.
There was no line pouring out the door of THC, into the parking lot, in view of Sal's Myrtlewood. There was no hubbub. It was no big. But this is the outskirts of Eureka, not Denver, Colo., where the streets are paved with cannabis, where driveways are lined with hash, like in that one episode of Trailer Park Boys.
Denver, not Eureka, is the front line of marijuana innovation and exploration. It's Denver with all those million-dollar marijuana headlines and happy pot shoppers. But Eureka still has some good pot.
And yesterday, in a private Arcata home, I came across some Bubba's Gift and Bubble Gum Kush that was grown outdoors, west of Willow Creek. Last week, someone gifted me some mystery outdoor weed from a grower out of southeastern Humboldt County. Denver is the darling, but marijuana abounds in Humboldt.
I have to drive a ways to access a dispensary, and I mostly get by on gifted weed So I don't often shop at pot shops. But I still wonder — what's it like to stand on the sky? What's it like to buy recreational cannabis at a store? What are the implications? Luckily enough, there are umpteen commentaries and analyses to consult. I'll throw a out a couple:
What I offer this week is perspective from my Colorado connection. Now, Pat is no neuropsychopharmacologist, but he is the resident dealer at his apartment complex in a resort town in the mountains west of Denver. He sells upwards of two pounds a month — grams, eighths, quarters and ounces — to his neighbors and to tourists. He's a good man to know.
Pat is "nickel and diming" it in the marijuana trade to support his income from his other, not-pot job. He moves locally grown Colorado indoor from guys with basement ops. According to Pat, these "gentlemen" have "small grows to help make their ends meet and to satisfy their own passions."
As an easily accessible source for marijuana, Pat offers a valued service. Surely, NOFX would praise him for helping people get good drugs. He is not a licensed pot retailer, but pot shops are not yet pervasive. So his business is not yet dampened by legalization.
The apartment complex hustle remains good. Vacationing or working in the Rocky Mountains? You don't want to drive through the Eisenhower Tunnel with the snow and the ice to buy a taxed ounce of legal weed. Save yourself the trip. Just talk to Pat. He hooks up ounces for $240, grams for $10. Yes, he has dabs.
Pat is for legalization, but he doesn't want to shop at pot shops. And he says because of his hunting hobby, he doesn't want medical marijuana status, even though he "self-medicates" with marijuana on the regular. Pat does want unimpeded access to firearms. (Read "If you own medical marijuana, ditch the gun" from SF Gate here.)
"I will probably never buy marijuana from a dispensary," he tells me. He doesn't have access issues, so he's not out-of-his-mind excited over pot shops. It's the medicinal applications of weed that excite him. He wants legalization to bring about more research on medicinal cannabis for kids and the elderly.
Colorado is a pretty stoney place, and with legalization Pat says there are a lot of revelers blatantly blazing in the streets. He's not really feeling that vibe, and he reminds me that in Colorado, marijuana consumption belongs in private. Sounds a little cold, but that's Colorado.
And in Humboldt, winter is sunny and warm, stifling almost. The County Board of Supervisors enacted a ban on medical marijuana dispensaries for New Year's, not for lack of people wanting to start some new dispensaries in unincorporated areas.
Ms. Hammans, the proprietor of THC, is cool with the Supes' ban, at least for now, "until they can get everybody on the same page," she says. On the same page. Hey, it seems like we're lucky to still have Grass in Garberville, THC in Myrtletown and the medical pot shops in the City of Arcata with us — all decent-to-great spots for procuring medical marijuana.
Puff on.