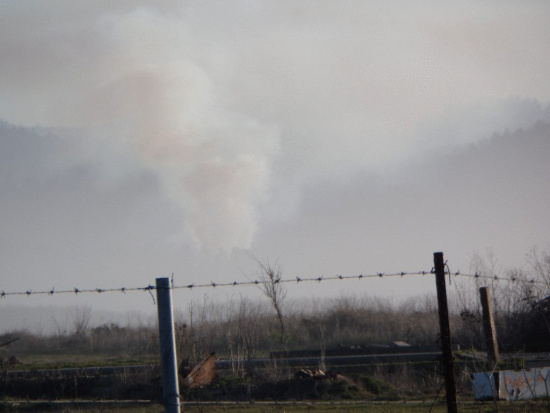 The fire in Ferndale as seen from from Crab Park in Loleta (Photo by Karly Simpson.)
The Ferndale Enterprise is reporting a fire in the Centerville area. (Go here to see photos and updates.) Scanner traffic is indicating that the incident is up a road by Fern Cottage.
LoCO has a call into Cal Fire and will be updating with more information as soon as possible.
UPDATE 5:11 p.m.: Areas of the county are extremely drive dry right now. Some are under a red flag warning. According to the US National Weather Service in Eureka,
Very dry conditions and gusty east winds are elevating the potential for dangerous wildfire conditions at elevations above 2500 feet. These conditions will continue through at least Friday morning with the strongest wind gusts late at night and early in the morning. Call the appropriate emergency personnel if smoke is seen. Wildfires can be fast moving and very dangerous. Do not approach areas of smoke and fire.
However, today is a permissive burn day for all areas of the county if residents hold the required permits.