Thanks to the many Outpost faithful who alerted us to the fact that there is an enormous hulking beast of a warship docked in Eureka right now.
Humboldt Bay District Commissioner Mike Wilson tells the Lost Coast Outpost's Kym Kemp:
All I know is that it is a US Navy helicopter carrier here for refueling as part of some offshore training. I can't remember the name of the ship. Staff mentioned it was coming at our last meeting.
The Lost Coast Outpost's Ryan Burns swung by the Schneider Dock on his way down to Cream City and acquired the photos above and below. I say "acquired," because the entire zone is security'd up to the max and Burns was not allowed to get close enough to snap. Says Burns:
Those were taken by a security dude in a golf cart. He wouldn't let me get that close, but he drove off with my phone and brought these back.
Click the photos to embiggify.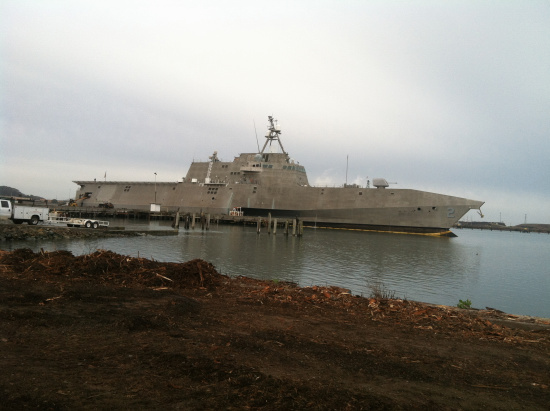 ###
UPDATE, 2:05 p.m.: For those of you who haven't gotten down to the waterfront, the incomprehensively handled LoCO supercommenter "Themisadventures Ofbunjee" sends along some more great pics. Check 'em out below. Also embiggable.