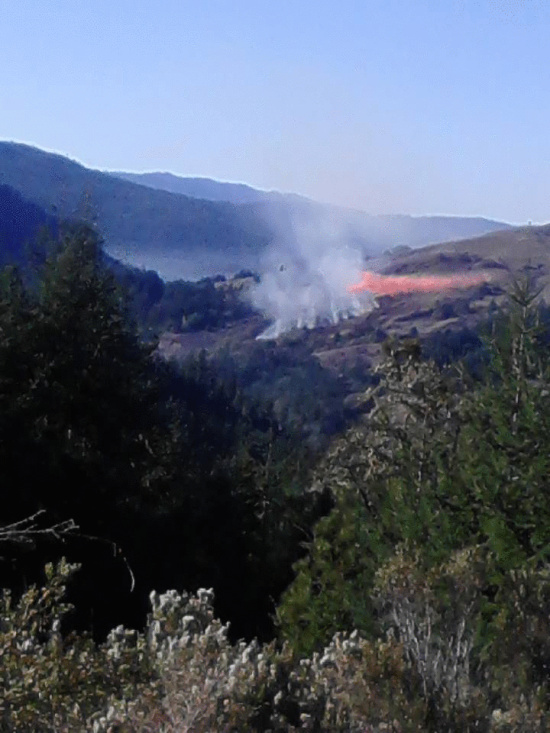 Fire near Bridgeville taken at 12:47 P.M. by Jean-louis Carmona as air attack arrives.
UPDATE 5:05 p.m.: Deputy Director Janet Upton of Cal Fire says that the Bridge Fire is now at 100% containment!
UPDATE 4:30 p.m.: According to Janet Upton, Deputy Director of Cal Fire, the fire (which is now being called the Bridge Fire) which began at around 10:30 a.m. has now been 75% contained. Firefighters have been able to stop forward progress. The blaze spread across 18 acres of grass and oak woodland.
Upton says that the unusual weather contributed to making the fire difficult to contain. Today the area was 70 degrees with an extremely low relative humidity. The amount of moisture in the air was about 7% which is equivalent to a hot August day in the height of fire season.
There are red flag watches around the state as Cal Fire brings in extra crews to deal with this unusual weather. Shasta, Humboldt, LA and Ventura Counties have all arranged to have more manpower to deal with the unusually high fire danger for this time of year.
###
UPDATE 4 p.m.: According to George Monroe of the Southern Humboldt Fire Chiefs Association, Cal Fire is now saying the fire has reached 18 acres and multiple resources are being brought to bear on it. However, there is a second fire near Blue Lake at Snow Camp and air resources are being taken from the Bridgeville fire to deal with it. More information as it becomes available.
###
George Monroe of the Southern Humboldt Fire Chiefs Association reports that there is a vegetation fire above Bridgeville. Details are just now coming in but it appears to be a quarter acre fire.