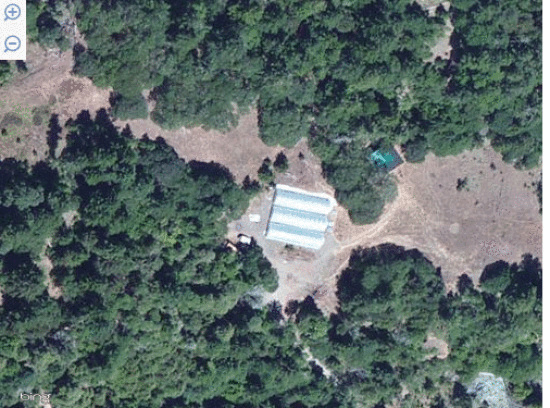 Property here in Humboldt connected to a South Dakota woman's sentencing for conspiracy to distribute marijuana. (Screengrab from Flashearth.)
In July of 2012, a series of law enforcement raids fanned out across Humboldt. The actions, involving local officials as well as the Office of Homeland Security, hit Petrolia, Salmon Creek, Bayside, and possibly other areas.
The owners of these properties were eventually arrested along with others and charged with being involved with a scheme to grow marijuana in Humboldt and distribute it in South Dakota. Seven people were eventually charged with conspiracy and most are still awaiting trial. However, one woman, Georgia Pfeifle, has recently been convicted and sentenced for her role.
According to this article posted late last night in the Argus Leader, the woman who had planned to be a nurse, was sentenced to six months in jail and must change her career plans.
Georgia Pfeifle told U.S. District Judge Karen Schreier that she hadn't fully understood the consequences of her actions when she began depositing money for her brother, and that she still has a [difficult] time believing that her role warranted a felony drug charge.

"Because it was my brother, I thought I was doing him a favor," Georgia Pfeifle said.

She has no prior criminal record and was attending school in hopes of becoming a nurse prior to the California raid that set the case in motion in July 2012.

With a felony on her record, she said, she has to reconsider her career plans.
Three of the alleged co-conspirators have been sentenced. Four more await sentencing. Below are the stories listed in order that the Lost Coast Outpost wrote about the raids.
PREVIOUSLY: