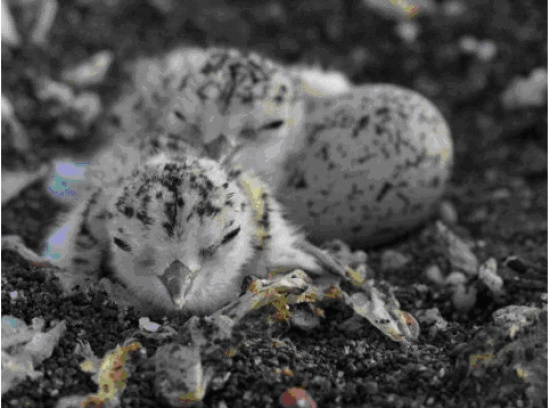 Newly hatched western snowy plover chicks. Photo by Sean McAllister.
Friends of the Dunes sent the following announcement:
For the first time in decades, a pair of nesting western snowy plovers has been sighted in Manila.

This small threatened shorebird nests on bare sand just above the high tide line, and forages for invertebrates in wet and dry sand. Friends of the Dunes would like to remind community members to share the beach with snowy plovers that are nesting and raising their young from March to September.

The best way to avoid disturbing a nest is to keep activities on the waveslope (the area between the high tide line and the ocean), and to view wildlife from a distance. Dogs should be kept on the waveslope as well, and should be under voice control or on a leash. And always remember to pack out your trash, litter and food waste can attract predators such as ravens to areas where snowy plovers nest.

Wildlife biologists use a series of 4 colored leg bands to identify individual adult western snowy plovers. Photo by Sean McAllister.

The Pacific Coast population of the western snowy plover is a distinct sub-population that is federally was listed as threatened under the Endangered Species Act in 1993, and is a Bird Species of Special Concern in California. This Pacific Coast population breeds along tidal waters from Washington to Baja California, and a small population breeds in coastal Northern California. In 2013, there were 41 breeding adults in Humboldt and Mendocino Counties.

In recent years, snowy plovers have nested at Gold Bluff Beach, Stone Lagoon, Big Lagoon, Little River State Beach, Clam Beach, Mad River Beach, Eel River Wildlife Area and Centerville Beach. But a nest has not been recorded in Manila since 1977.

For more information about the western snowy plover you can call Friends of the Dunes at (707) 444-1397, stop by the Humboldt Coastal Nature Center located at 220 Stamps Lane in Manila, or visit westernsnowyplover.org.