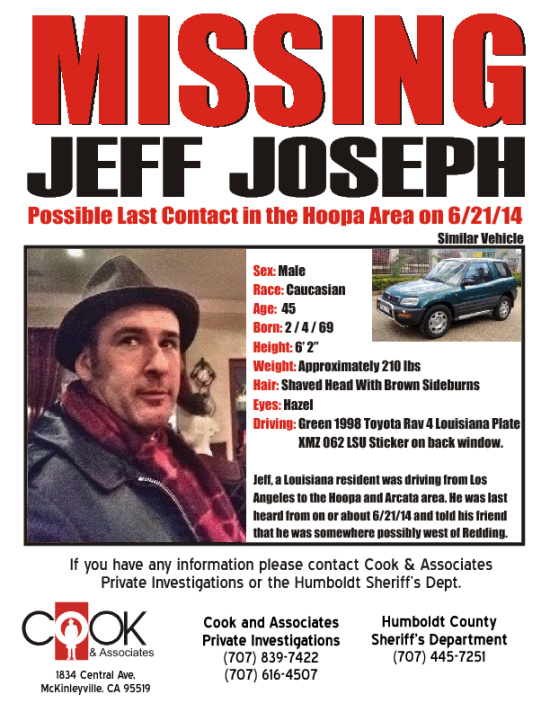 Missing person flyer being handed out to help find Jeff Joseph.
According to Chris Cook of Cook and Associates, the phone of Jeff Joseph, a Louisiana man who is believed missing in the area, last pinged off a cell tower in the Bloody Camp area of Hoopa on June 21 about 11:20 a.m. Cook's private investigations agency, has been retained by Joseph's family to help with the search. So far information that she has gathered from phone records and calls made by him on the 20th and 21st have offered some clues as to what areas of Northern California need to be checked.
Information provided by the family, Cook said, indicates that Joseph, left Southern California with the intention of heading eventually to property he leased downriver of Weitchpec. Joseph's phone records show cell phone tower pinging that is consistent with him driving up I-5 on the 20th and apparently stopping in Sacramento for some time.
Then, later, the cell tower records show a ping from near Williams. But Cook says they don't know what route he took from there. Cook said that Joseph made a call to an acquaintance on the East Coast about 7:30 a.m. on the 21st and shortly later texted a friend in Louisiana. The first acquaintance stated that Joseph said he driven all night from Southern California, he was in good spirits and "killing time" waiting to meet up with someone. The next ping from Joseph's phone comes about 11:20 a.m. from the Bloody Camp Cell Tower. The cell tower is about 20 miles from Joseph's intended destination and provides coverage for a large area.
There has been no phone activity since 11:20 on the morning of the 21st, Cook noted. But the phone records have been helpful. "It narrows down our search somewhat," Cook explained.
So far, she said, several law enforcement agencies have helped search. "The Highway Patrol has been very helpful," she explained. "They have searched the area more than once by plane."
The Humboldt County Sheriff's Department is also working to find Joseph, Cook explained, and interviewed several subjects known to Jeff Joseph. "My job is to make sure everyone knows what each agency is doing," she said.
Joseph's missing person case was originally initiated in Ventura County because his brother lives there but a case was also opened with Los Angeles Police Department because Joseph had a residence in that area so those agencies are also involved in the investigation
David Joseph, the missing man's brother, came up to the Humboldt area for two days. "Searching those roads seems like it is a job for professionals," he noted. People have told him that it isn't safe for him to search the area himself. "Seems like there is a lot of tension in that area," he said.
The Humboldt County Sheriff's Office, he said, was supposed to have searched his brother's place yesterday. The current tenants would not allow him to go there himself.
Cook and Joseph's family are asking the public for help. "It would be helpful to know [Jeff Joseph's] route," Cook said. He wasn't only going to his property he was intending on meeting someone in Humboldt County prior to going to his place. Cook wonders, did anyone see Joseph's 1998 green RAV4 or did they see him? Did he drive across on Hwy 36 or 299? Did he go to the Coast first and then head back towards Weitchpec? The more we know, she said, the quicker we can zoom in on answers for Joseph's worried family.
Previously: