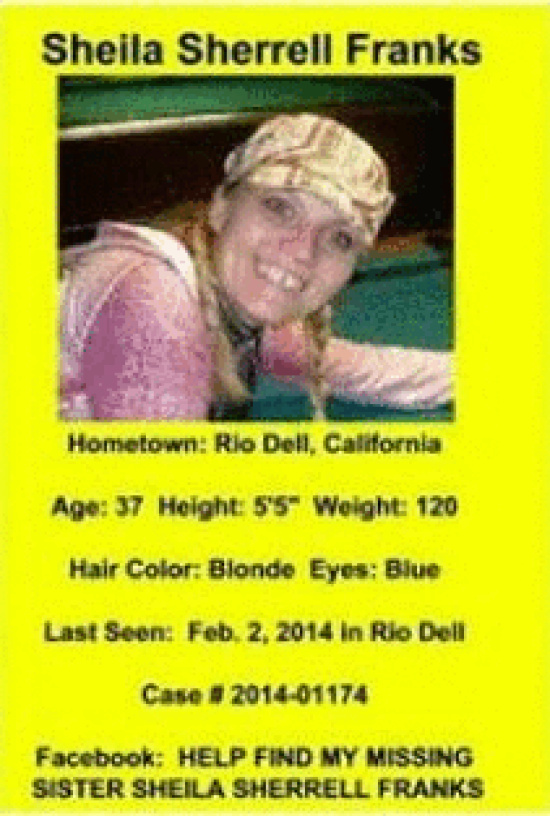 On July 19, Melisa Walstrom will be releasing balloons with people across the country in honor of her missing sister's birthday. Sheila Franks, Walstrom's sister, disappeared in Humboldt County on February 2. No one has heard from her since. [Another woman, Danielle Bertolini, disappeared close to the same time. See information about her here.]
Skeletal remains found Saturday in the Little Van Duzen River waterway out Hwy 36 have brought up a lot of conflicting emotions for Walstrom. She wonders if the remains could be her missing sister. She hopes it is but feels terrible for saying so. "It may sound horrible," Walstrom said, "but to be able to lay her to rest… ." She paused then continued her voice thick with tears, "She deserves that as a human. Nobody deserves to be thrown in the creek."
Walstrom said she is praying that the body is her sister's. Quietly, she said, "I know that she's gone. I think if we had her then we could start to move forward. Not knowing anything… that is the worst part."
Walstrom knows that the wheels of justice move slowly. It is harder, she says, for her sister's sons. The young men, she said, feel no one is stepping forward to help find their mother—no one cares. She would like to show them differently. She's asking people to release a balloon on her sister's birthday, take a photo and send it to her along with the place. She hopes to collect these in an album to present to her nephews.
"[Sheila's] youngest is Jordan and he is twenty. Her oldest is Michael, 23," Walstom explained. "I want to show the boys that people do care. Jordan's grandma (who was like a grandma to Michael also) died in January, their Mom disappeared in February, my mom, grandma to both of the boys, died in May. It's been hard on them."
Walstrom doesn't mention her own obvious pain. Instead she returns to her plans for her sister's birthday, "I have people that responded from all over the United States," Walstrom said proudly. "I got like a hundred and something people say they are doing it." She believes some will release their balloons at the Fortuna rodeo.
"When Sheila's birthday comes on Saturday," Walstrom said, "she can look down and see we still love her and we're trying our hardest."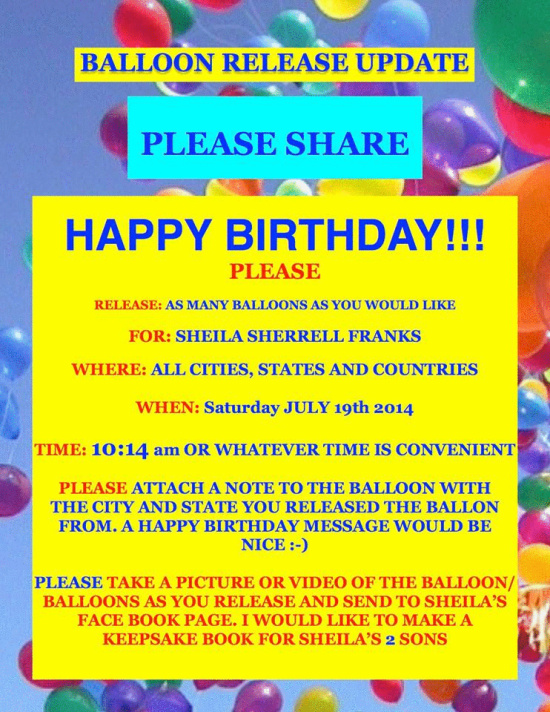 —————-
For those that want to participate in Sheila Franks' memorial:
To minimize the impact on the environment, do not use mylar balloons. Use latex. Do not use string or ribbon. Use raffia or crepe paper.
To have your photos included in the album, send your balloon photos here or email them to findsheilasherrellfranks@gmail.com .
Previously: