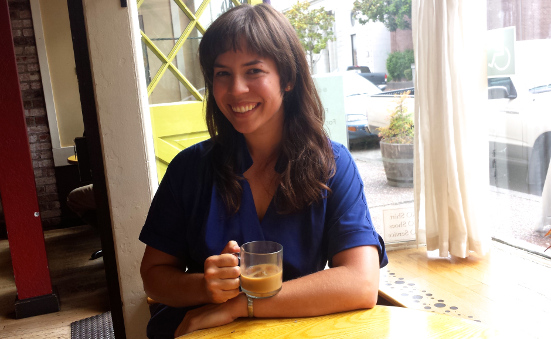 People come to Humboldt County for a lot of different reasons. Natalie Arroyo came here because of Hurricane Katrina. Or at least that's what pushed her out of New Orleans, where she had planned on settling in. Instead, Katrina blasted the Gulf Coast on what would have been her first day of grad school school at Tulane University.
Like several hundred thousand others, Arroyo evacuated, returning days later to a different city altogether. Tulane had closed. Job opportunities were limited. She tended bar for a while in the French Quarter, serving "Army dudes, cops and construction workers," but she didn't care for the district's party atmosphere.
"I really wanted to do something pretty serious — work or more education," Arroyo said recently over an iced coffee in Old Town Eureka.
So she joined AmeriCorps and chose to serve in Humboldt County, attracted by the natural beauty. Plus, she was planning to pursue a career in fisheries management.
She's been here for eight years now — the longest she's ever lived anywhere. (Born in Miami, Arroyo was raised as a "military brat," she said, moving every couple of years or so.)
Arroyo works for the nonprofit Redwood Community Action Agency and is currently two years into an eight-year contract with the U.S. Coast Guard, where she serves as a marine science technician. She's also a volunteer board member on both the Humboldt Trails Council and the statewide Salmonid Restoration Federation. Last year she bought a house in Eureka's Fifth District. Eureka, she's decided, is where she'd like to put down roots. "I never got to do that before," she said.
Beyond merely settling down in the county seat, Arroyo wants to help shape Eureka's future, which she feels is full of opportunities. "I really do feel like I sniffed out that sense of possibility as soon as I moved here," she said. "It's a cool city. There's a lot of potential. Not everything interesting has already been done."
Last month Arroyo announced that she's running for the Fifth District seat on the Eureka City Council, challenging Chester "Chet" Albin, who late last year was appointed to serve out the remainder of Lance Madsen's term.
What sorts of changes would Arroyo like to see in Eureka? For one thing, she thinks the city could benefit from stronger, more cohesive neighborhood groups, organizations like the Westside Community Improvement Association, which banded together a few years ago to purchase and transform the defunct campus of Jefferson Elementary School.
"I think there's potential to go beyond neighborhood watch [groups] and make really cohesive neighborhoods," Arroyo said. "I think that will help with public safety, a sense of happiness, all kinds of things."
She would also like to reach out to residents who aren't typically involved in civic issues, whether it's low-income folks who feel disenfranchised or Latinos who are intimidated by the language barrier. "I feel like I'm poised to do that," Arroyo said. "Those people are out there and have a lot of meaningful, good ideas and a lot of good energy to work hard on those ideas."
Not surprisingly, given her involvement with the Humboldt Trails Council, Arroyo said she'd like to see the Eureka Waterfront Trail completed, as well as the Bay Trail connecting Arcata and Eureka. She'd also like to see safety improvements and beautification on Broadway. "That's our gateway into town, and everyone knows that it's not the best reflection of Eureka," Arroyo said.
Earlier on the day of our interview, Arroyo sat down with new Eureka Police Chief Andy Mills to discuss various issues facing his department, including budget cuts and difficult community challenges such as the city's homeless population. Arroyo said she was motivated by their conversation and is heartened that Mills has already reprogrammed city funds to bring mental health resources to the homeless. She is in favor of establishing a campground for those who fall through the cracks.
"I'd like to see a place for homeless residents who don't have other options, who can't get into the rapid rehousing program the city is doing, who can't get on their feet any other way through mental health resources," she said. "I'd like to see somewhere for people to go and live without fear of harassment and fear of other criminal activity against them."
As for job creation, the perennial rallying cry for any aspiring politician, Arroyo said, "I'd like to see us reexamine our land use and zoning and lay the groundwork for more industrial and light-industrial businesses that are currently moving away from Eureka."
She also recommended focusing on the areas of job growth identified in the Prosperity 2012 economic development strategy, such as niche manufacturing, specialty food production and scientific/technical consulting. Or perhaps an industrial park, a place for specialty woodworking or a woolen mill. "But I don't think more commercial retail is the answer," she said, "and I've definitely felt that way for a long time."
Arroyo said she's in favor of Measure R, the "Eureka Fair Wage Act," which would raise the city's minimum wage to $12 per hour, with an exemption for businesses with fewer than 25 employees.
Her support stems from personal experience, trying to live off of $2.15 an hour plus tips while working in the Deep South. "Sometimes you get great tips delivering pizza or waitressing, but sometimes you get nothing," she said. "That was pretty difficult, to say the least, and often left me eating ramen for weeks on end or just feeling stressed out and desperate. I don't want anyone to have to feel that way."
The benefits can extend beyond the individual level, too, she said. "I also think making a living wage helps stave off that cycle of dependence on aid that people feel so strongly about. It also gives people increased buying power. I haven't seen an example of a community that's increased the minimum wage to a living wage and their economy has gone way downhill. It seems like it stimulates growth and buying."
Arroyo has not been impressed by the current council members. She feels that they haven't made a enough effort to seek out diverse opinions and feedback from constituents. "I don't see a lot of enthusiasm for Eureka or a lot of targeted movement forward from our current city council," Arroyo said. "It seems like sort of a reactive council, and sometimes downright disrespectful to people who come to speak at meetings. I see body language that I think is not very respectful, especially [toward] residents who come to speak at meetings. I'd like to see that improved."
While she doesn't know Albin personally, Arroyo said she's been taken aback by some of the things he has said on the record, like his skepticism about sea-level rise. And she's not convinced that Albin's push for more cruise ships is quite the panacea implied by his enthusiasm on the topic.
"I have a lot to say about that as a Coastie who knows the infrastructure of our bay," Arroyo said. "I know that Mr. Albin is a retired Navy guy, but I don't think he is, possibly, as familiar with some of the current federal regulations that [govern] all of the facilities that receive cruise ships." Those regulations have tightened a lot in the past 20 years, and particularly since the Costa Concordia wrecked off the Italian coast in January 2012. With new requirements for oil and waste facilities, handicap access and more, updating the bay's infrastructure and dock facilities might not be the most simple or cost-effective means to stimulate economic growth, Arroyo said.
"I'm not opposed to having cruise ships in Humboldt Bay — I want that to be really clear — but I think there are a lot of considerations."
Now, by some old-timer standards, eight years in Humboldt still makes you a newcomer. And, at age 30, Arroyo would be the youngest member of the council if elected. But she feels that both of those things — her relative newcomer status and youth — can be assets.
"I understand why people think I don't have as much wealth of experience in Humboldt, and I would say in a way it's not holding me down or burdening me," she said. "I don't have these old connections that keep me from talking to someone I need to talk to or cause me to have judgments about specific groups or people or organizations. I don't have any of that baggage, so I think that's a plus. I'm not jaded about Humboldt. And I think there's something to be said for that."
A fundraiser for Arroyo's campaign will be held this Friday at The Siren's Song Tavern, starting at 8 p.m. Her own band, a synth-fueled drone-pop outfit called Blood Gnome, will perform, with a suggested donation of $5. For more on Arroyo's city council bid visit her campaign website.