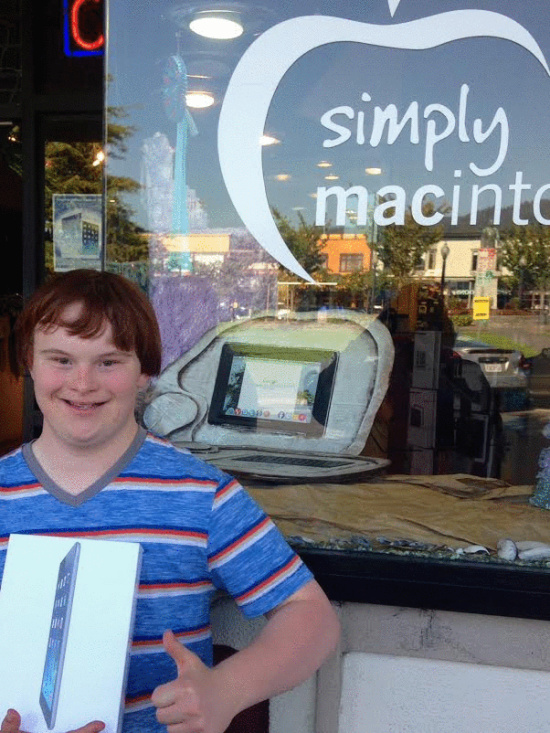 Henry Stratman whose iPad was stolen is shown here with his new treasure in front of Simply Macintosh in Arcata. [Photo provided by Wendy Kerr.]
"I can't thank the anonymous donors enough," said Wendy Kerr the mother of 15-year-old Henry Stratman whose iPad was taken in a robbery on July 14. "They're angels in my eyes." Her son, she said, had been devastated when his device was taken. He had used it for educational games, music, and movies. After reading about his loss in the Lost Coast Outpost, a group of mostly anonymous donors banded together and purchased Henry a new iPad. [See photo above.]
When mother and son showed up at Simply Macintosh to pickup the new iPad, "Henry was so nervous and excited he couldn't communicate," Kerr explained. The two went outside to take a photo in front of Simply Macintosh whose owner, Simeon Tauber, had helped with the purchase of the item. Kerr said that they got to feel like celebrities because "a woman asked, "Aren't you the kid who got his iPad stolen?" Again, Henry was too excited to talk.
But he did talk to her when they got home. There, he asked her about the new iPad. Kerr said she explained that he had gotten a new one because "there are a lot of people who really care about you and like you. They think what happened to you was wrong." He grinned at the answer.
But, not much later, he told her, "Mom, we have to find a really good hiding place."
Kerr said she answered, "Yes, we do."
As Kerr explained to the Lost Coast Outpost, "I'm so happy Henry has his iPad back, but what I want back is that feeling of security."
Isn't it wonderful that people can do so much to heal the wrongs that happen? …Isn't it sad they can't fix everything?
—-
For those interested in helping other children with disabilities purchase iPads, donations can be made to Families Advocating Autism Now at this link. Or, Wolf Dawg, the Vance Hotel's Hot Dog Joint will be donating 10% of their proceeds on their anniversary, August 2nd, from 12 p.m. til 9 p.m. to Families Advocating Autism Now. There will be contests and challenges from 12- 2 p.m. at the store as well as face painting, animal balloons for kids, contests and raffles for adults and for kids. For more details see Wolf Dawg's Facebook page.
Previously: